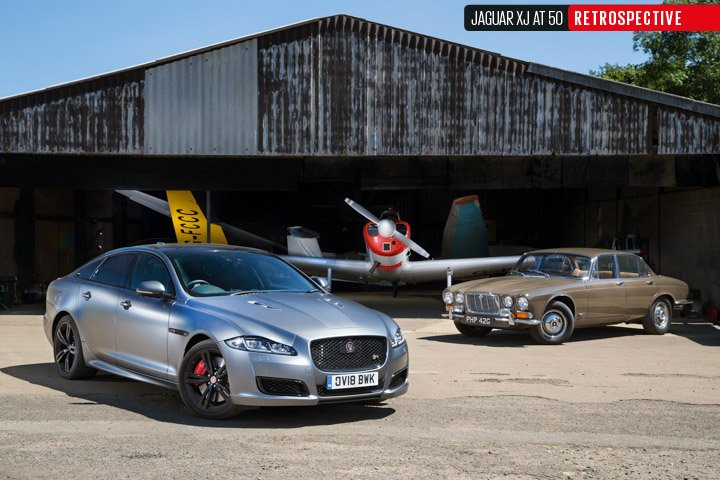 Jaguar's XJ luxury saloon has ploughed an idiosyncratic furrow for 50 years. Andrew Frankel traces the bloodline from the 1968 Series 1 to the current XJR575 – and ponders what will come next
There is a curious irony that lurks at the heart of retrospective drive stories like this. For while my brief, or at least part thereof, is to celebrate the 50th anniversary of the Jaguar XJ and have a sentimental wander around the many lanes that took it from that date to this, the cars that represented the best of the breed only ever focused on the future.
'Twas ever thus: throughout history, the cars that make us want to look back are almost exclusively those that chose to look forward.And despite the historical and somewhat stereotypical image of a Jaguar being what you bought yourself as a retirement present, Jaguars themselves have delighted in doing it differently.
Even today this Jaguar XJR575 feels deliciously iconoclastic. The hot Mercedes, BMWs and Audis against which it offers putative competition are actually not so much a class apart, as a concept. For all their immense punch and jaw-sagging point-to-point pace, you could walk past any one of them in a crowded car park and not notice it. Yet even without almost £5000 worth of Satin Corris grey paint, the XJR will always grab your attention and so it should. The best XJs, like all the best Jaguars, have always made a statement.
Even today the Series 1 XJ6 doesn't look like a car of the 1960s
It's the same on the inside. Not for Jaguar the almost industrial surfacing cleanliness preferred by the Germans. There are aspects of the XJR's interior that make me want to put my fist through the dashboard at times – chiefly the utterly lamentable navigation and information system – but the rest of the time I just love being on board. At the risk of sounding like a spurned Love Island competitor, it's just so special in there.
And it's still a pretty cool thing to drive. I don't doubt that if you gathered its key opponents and compared the lot it would come anywhere other than last, because the game has moved on so far since this most recent generation of XJ was first shown almost exactly nine years ago, but Jaguar has always known how to make cars handle and, with 568bhp at its disposal, this one is refreshingly rapid too.
But there's something else. I don't know whether it's the latest round of model year enhancements (which include electric steering for rear-wheel-drive cars like this), something about the XJR575 or this car in particular, but it feels more together, more poised and precise, than any other XJ I've driven. I actually find myself offering silent curses that the car is like this only at the very end of its life because had it managed it from the start, perhaps Jaguar would have sold more and perhaps it wouldn't now be on the point of being withdrawn from sale.
Notably, earlier versions of this XJ also toting the long-serving supercharged V8 motor only achieved their handling prowess at the expense of ride quality that, at times, could descend towards being shockingly poor for a car that retained a clear luxury brief. This one, though, rides splendidly while still cornering tenaciously and exhibiting the resistance to understeer that characterises the way almost all Jaguars have handled since the legendary test driver, engineer and car developer extraordinaire Norman Dewis decreed they should back in the 1950s.
One of Dewis's cars has joined us. Actually it's one of his guvnor's cars if we're in a mood to be precise. The Sable Green Series 1 XJ6 4.2 with its cinnamon interior is the 370th car built and would have been sold new for £2258 were it not co-opted by none other than Sir William Lyons (knighted in 1956 for services to British industry) to be his company wheels. It is standard in every way and highly original.
Even today it doesn't look like a car of the 1960s. If you think of the slab-sided, angular machines that companies like Mercedes-Benz were producing at the time, the XJ6 looks almost impossibly svelte and beautiful. It was the last car in whose design Sir William played a full and active part and I think if you look at the cars that came later, it is fair to say that things were never quite the same again. Interestingly, Lyons thought the car sufficiently advanced and futuristic to survive in the marketplace for 'a minimum of seven years'. In fact, it did rather better than that, the final Series 3 version of what was still essentially the same car staying in production until 1992, some 24 years later.
The XJR575's V8 deli
vers its punch with suave savagery and without delay
At the time, praise was unbounded and with reason. This was surely the most beautiful saloon on sale, with ride quality to better a Rolls-Royce Silver Shadow and handling that in some ways improved on that of the E-Type. It was whisper quiet, exceptionally rapid (so long as you didn't make the mistake of choosing the gutless 2.8-litre variant) and, like all Jaguars of the era, exceptionally keenly priced.
In its own way, it is still amazing to drive. The ride comfort alone provides the starkest testimony to the fact that while progress has been made in the past 50 years, not all of it has been in the right direction.
It doesn't merely work in certain speed ranges like modern, air-sprung cars. It just works, soaking up car park bumps and imperfections on high-speed roads with equal aplomb. And once you've accepted the lightness of the liquorice-thin helm and chosen to guide the car with your fingertips, it's remarkably rapid from point to point too. You feel it start to lurch as you turn in, but just as you fear it might all be about to get messy, it checks its body movements, settles into the turn and hammers round as fast as its Dunlop SP Sport tyres, around which the XJ6's suspension was designed, will allow.
The engine – the same basic unit as that which won Le Mans five times in the 1950s – is a little disappointing. It's meant to put out 245bhp in a car weighing just over 1500kg, which is around the same power and less weight than a modern XE that is claimed to hit 62mph from rest in 6.5sec. The only way this XJ would do that is if you pushed it off a cliff. I suspect the power is a gross figure and possibly still exaggerated, and that the three-speed automatic 'box accounts for a sizeable chunk of it before drive gets near the rear wheels.
No such problem with the XJR's V8, which will lob the car through 62mph in 4.4sec. I'm going to miss this engine when it dies shortly because while it might not have quite the power of the latest turbo motors from Mercedes-AMG, it's always delivered its punch with such suave savagery, right through the rev range and without delay.
The funny thing is that the old XJ should have been launched with a V8 (and a V12) under its bonnet. But production delays meant it got canned, although the V12 would eventually surface in the XJ12. Had it gone to plan, the V8 would now be as much part of Jaguar engineering iconography as the old straight six.
What do they share? Only an attitude, a daring to be different and a lack of space in the back. Many would say that the current car's refusal to conform to class norms in appearance is why it was always a bit part player relative to its European rivals. Fifty years ago, it was exactly that individuality that made the XJ6 such a success and helped consolidate a business that had had a hitherto increasingly fractured product line-up, at least until Leyland went and made a complete Horlicks of the whole thing. But the truth is the modern XJ was not less successful because we no longer desire to be different these days: on the contrary, it is that very impetus that makes people look straight past the four-door saloon and go and buy some hulking great SUV instead. That wasn't an option in 1968.
I'll miss the current XJ's distinctive exterior and gorgeous cabin. I'll miss its balance and that supercharged motor too. To my mind, there is no question at all that among all generations of XJ, this one was bettered only by the first. But it's good to hear that the future of the XJ name is secure and, as you'll see from the separate story (below left), the next one may be the most ambitious yet. That is fine by me, because an XJ that isn't ahead of the curve in the way it looks and the way it gets down the road isn't really an XJ at all. A
PHOTOGRAPHY Stan Papior
THE DEATH OF JAGUAR'S V8
I first encountered the 'AJ-V8' engine used in the XJR575 more than 20 years ago when it appeared in the then-new Jaguar XK8. Since then it has been available in both supercharged and naturally aspirated forms under the bonnets of cars as diverse as the Land Rover Defender and the Aston Martin V8 Vantage.
Although much modified by Jaguar, Land Rover and Aston, the same basic design has been available in 4.0, 4.2, 4.3, 4.7 and 5.0-litre capacities, with outputs from 286bhp (original XK8) to as high as 592bhp (XE SV Project 8). It has multiple class wins at Le Mans to its credit in the front of Aston Martin racing cars. Like so many other V8s, though more usually those of Detroit design, it has proven to be immensely flexible.
That said, it looks like it will be replaced by a straight six from the expanding Ingenium family. While Jaguars have been powered by engines with four, six, eight and 12 cylinders, it's probably the straight six with which the brand is most readily identified. For that, thank the 'XK' six-cylinder motor that served from 1949 to 1992 in everything from outright Le Mans winners to hearses, making it in all probability the most versatile engine in history. AF
THE XJ'S ELECTRIC FUTURE
The new Jaguar XJ due in 2021 will not only be the first five-door production XJ in history, likely to be shaped in the style of the likes of the Porsche Panamera and Mercedes-AMG GT 4-door Coupé, but it will be a pure-electric vehicle too, underpinned by Jaguar Land Rover's upcoming PLA modular architecture.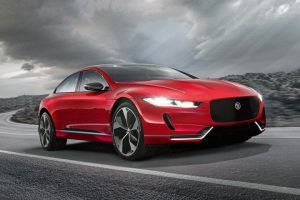 That's a tremendously exciting development because an electric powertrain can provide the punch and refinement that has always lain at the heart of the best XJs over the years.
More than that, though, I love the fact that 50 years on, the XJ sub-brand is still innovating. And while it does, I see no reason why it should not make its centenary. AF