5. BMW 530d Touring

BMW's product lines have been no strangers to controversy of late, from the iffy design of some of its more style-conscious SUVs to a generation of M-cars that are only now starting to regain their once vaunted status.
In the mainstream market, however, the company has rarely set higher standards. At one end, the 3 Series is peering over the edge of the grave yet is still arguably the best in its class; at the other, BMW has at last produced a 7 Series capable of giving as good as it gets against the Mercedes-Benz S-Class.
But the 5 Series is the best of the lot and never better than as the 530d Touring you can (just) buy for less than our £50,000 cut-off point. What this estate-bodied 5 Series offers is a dizzying synthesis of real-world ability from its usefully enlarged boot to its fabulous ride quality, with a dynamic sparkle anyone who has enjoyed some of BMW's best driver's cars will recognise.
And that engine – it'll propel this large five-seat estate to 62mph in five-and-a-bit seconds, return 50mpg and offer either silence or a snarl according to taste. And they say diesel deserves to die. Truth is, if you had to have one car only to do everything a family could need, you could search to the ends of the earth and not find one better than this.
4. Volkswagen Golf R

Yes, we'd rather drive a Honda Civic Type R, and we said so when they met on these pages. But not only does the Golf R returning today have what only a few years ago would be regarded as unimaginable point-to-point pace for a family hatch, it has been achieved seemingly without compromise in any other area.
Bona fide supercars would struggle to drop it on a decent British A or B-road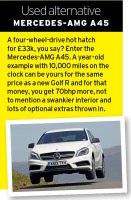 It has the same clean looks as a Golf, the same intuitive, functional and attractive interior. In Comfort mode, its ride is as good as any in the class and, if you turn on the cruise at motorway speed, you can forget entirely you're in a car that even bona fide supercars would struggle to drop on a decent British A or B-road. Why? Because power is no good if it can't be used, and what's remarkable about the Golf R is not that it has 306bhp (soon to drop to 296bhp thanks to the switch to the WLTP emissions testing regime), but how on the right road almost all that power can be used, almost all of the time.
Essentially, it's the same formula that was applied to the original Golf GTI but turned up so far, the dial has started a second lap. Over 40 years later, the formula is still working.
3. Ariel Nomad

I think what we love most about the Ariel Nomad is not its mad appearance, certifiable performance (in supercharged form) or back-to-basics approach to absolutely everything, it is that it's a car no normal car company would ever have created. Imagine the pitch: a totally impractical car that will never set a decent lap time and whose off-road performance is entirely compromised because it drives its rear wheels alone. Where's the fun in that?
The Nomad is pretty much the funniest thing on wheels, but just about unbustable too
Everywhere, as it turns out. Even in its least entertaining environment – the public road – the Nomad is one relentless hoot to drive. On a track, you'll be too busy going sideways to worry about the fact you're not quite the quickest thing out there while on the loose. Well, here it is out on its own. Literally. There is nothing road legal you can buy from a recognised car manufacturer that can perform like this. There may not be many places in the UK where you can legally and easily drive the Nomad in the environment it was designed for, but they do exist and people happily travel across Europe to do track days at which they won't have half the fun you'll be having in the Nomad.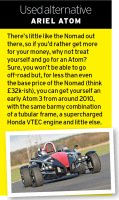 Which is all very good, but its value would still be limited if the car was less than entirely robust and suited to the spectacularly hostile environment in which it begs to be driven. But we know from our own experience that a properly maintained Nomad is pretty much the funniest thing on wheels, but just about unbustable too. Which is why they also cling to values better than any other new car save limited-edition supercars.
So not only is it a car you can buy for less than 50 grand, it's one you can enjoy for years, and so long as it's maintained properly, when you come to sell, you should get almost all your money back too.
2. Ford Fiesta ST

Hear this: there is not a car on sale that is a more skilled exponent of the ancient and fine art of being better than the sum of its parts. It is merely an iteration of the Ford Fiesta, Britain's bestselling car. It has a 1.5-litre, three-cylinder engine at one end and a beam axle at the other. Big deal, eh?
Massive, as it turns out. Everything is in the fine-tuning: the way the power is delivered, the throaty warble of that little engine, its relentless enthusiasm and the slickness of its gearshift. And all that before you've even got to what it does really well. Which is corners, where once more you must look to each end of the car to understand the magic it provides. In this case, the optional limited-slip differential at the front and super-stiff suspension at the back. The combination contrives to provide grip to the axle that always needs it most in front-drive cars, and remove it from the one that always grips and spoils the fun. The result is the best-balanced hot hatch on sale and, yes, we include the Civic Type R in that. Here is a Ford Fiesta that loves nothing more than to be lobbed into a corner on a trailing throttle until the back is where you want it to be, whereafter you can land back on the power trusting the diff to find the traction you need to fire down the straight beyond.
No car is perfect and we'd have preferred a little torque steer, a firmer brake pedal with better feel and a less squidgy rim for the wheel – but, even taking all this into account, what remains is a simply brilliant driver's car and a practical small hatch into the bargain.
There is one more component of fast Ford heritage that hasn't been forgotten either: at £18,995, the base ST-1 model undercuts its key rivals from Renault, Peugeot and VW, making it not just the best small hatch on sale, but the best value too.
1. Alpine A110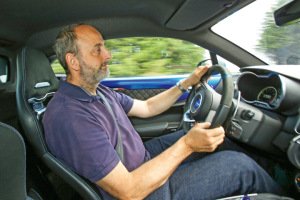 This is the bit where we say what a close contest it was, that we sat up all night deliberating over which one of the five should win and, in the end, had to resort to arm wrestling in order to find our favourite car that less than £50,000 can buy.
But it didn't happen like that. Before we met in Wales, the Alpine A110 always looked like the runaway winner of this contest, and if anything changed at all that day, it was probably only that it ran a little further.
The funny thing is, we don't often take retro cars to our hearts. When we look back, the cars that make our hearts flutter are always those that, when new, looked only forward. Retro is for those who seek to plunder that past because they lack the imagination to envisage a respectable future.
This is driving in the purest form you'll get in 2018, but without resorting to mad impracticalilties
But, just occasionally, one comes along that does retro so well it reminds us why we fell in love with cars in the place, and what we've lost on our journey from there to here. Mazda did exactly that with a shameless homage to the original Lotus Elan it called the MX-5 and now, almost 30 years later, Alpine has done it again.
What is so refreshing about the A110 is that it recognises that so much of what we think makes a great sporting car actually gets in the way. All that performance we can't use, but which requires huge brakes and beefed-up suspension to control, and the unavoidable rise in unsprung mass that goes with it. All that grip we rarely exploit, brought by massive wheels and tyres that destroy feel and mean we never get to experience a car on the limit, because that limit is too damn far away to be of any sensible value to a sane driver on a public road.
It's also what we call a 'car park car', namely one that feels so intrinsically right from the moment you start to move that you know you're driving something special even before you're out of the car park. And I'm not kidding: you need neither go far nor fast to feel how supple is the suspension, how well it steers or how compact and light it seems. In short, it just feels right.
But when you do drive it the way its car-crazed designers intended, it provides an experience that, in certain real and important ways, is more involving than you'd find in any number of bona fide supercars. For this is driving in the purest form you'll get in 2018, but without resorting to mad impracticalilties. And yes, the fact that it's quiet and comfortable enough to use every day is a massive real-world point in its favour too.
The Alpine A110 is, by any standard you care to name, a simply outstanding driver's car. That a car of such rare qualities is available for under £50,000 (for the entry level 'Pure' version) is something we will lose no opportunity to celebrate. A