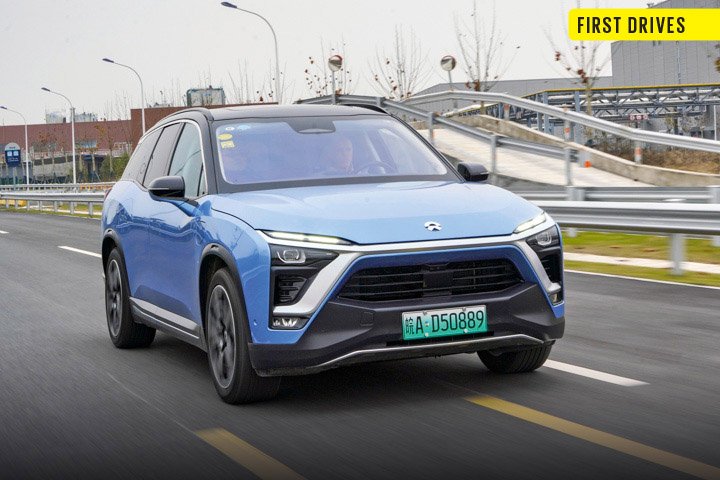 Electric seven-seat performance SUV from China is after Europe's premium players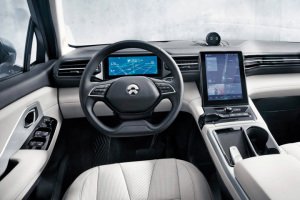 Although Chinese vehicles aren't widely available in the UK, they're already plagued by reputation, mostly bad. But where we might expect a cheap sticker price, sketchy build quality and woeful crash test performance, Chinese start-up Nio's ES8 is targeting the premium segment.
Its weapon of choice for this assault is an SUV: five metres of performance and seven seats aimed squarely at the Audi E-tron and Tesla's Model X. Whereas prices for its American rival start at £78,000 in the UK, the ES8 is on sale in its homeland at £51,500. So far, so Chinese. Yet that is where, for the most part, the stereotypes end.
At first sight, Nio's debut offering is a smart, substantial if conservative-looking SUV that wouldn't look out of place in any European car park. Performance is competitive, too. Power comes from a 70kWh battery pack located underneath the cabin and within the 3010mm wheelbase. This powers two 322bhp motors, one on each axle for full-time four-wheel drive. The resulting maximum power is 641bhp, with 620lb ft of torque. This manifests itself in a headline 4.4sec 0-62mph dash.
Performance is helped by employing Audi levels of aluminium to make up 96.4% of the vehicle's structure and bodywork. And Nio expects the car to achieve five Euro NCAP stars. In light of that, you probably won't be surprised to hear the company's engineering and design base is in Munich.
The team there has come up with a generic SUV to look at. More notable are the tight panel gaps, door handles that fold out of the bodywork and doors that close with a solid thunk.
The ES8's quality feel continues with a cabin cloaked in nappa leather. The electrically adjustable, heated, ventilated and massaging front seats are comfortable and supportive. The passenger chair has a business-class range of movement. Should its occupant wish to catch up on some sleep, an electric footrest folds out from where the glovebox would be. Alternatively, the passenger can glide back to tend an infant seated in the middle row of three seats.
Nio designers have replaced the traditional transmission tunnel with a deep centre bin. And beneath where you'd normally find the gearlever, there's a huge storage space to swallow all but the most commodious of handbags.
On top of the dashboard, with its 10.4in central touchscreen, sits an egg-like object with two goggly eyes. This is Nomi, the world's first in-car artificial intelligence personal assistant. Nomi ('know me', get it?) learns behaviour and does everything from opening the windows to directing you to the nearest charging station, taking selfies and entertaining the kids.
In addition to the fluff, the ES8 has eye-opening on-road performance. Plant the throttle and acceleration pins you to the seat. Nio bypassed Chinese suppliers when it came to performance componentry. Brembo-sourced brakes pull it up smartly: 62mph to standstill in 33.8m.
All ES8s have the same Continental air suspension that Mercedes and Audi use. This can move between Sport, Comfort and Individual and provides a sound base. Less impressive is the steering. Numb and over-assisted, it has been calibrated for the Chinese market, engineers say.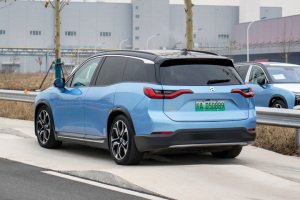 The Chinese influence is apparent in other areas, too. Should you prefer to use a controller rather than touch to operate the central screen, you'll find a fiddly little knob. And the plastics around the lower portions of the doors and particularly the boot lining feel cheap and scratchy.
But that's small beans: as a first effort, this is the most refined Chinese car we've seen. Nio has plans to come to Europe within the next five years. The ES8 goes a long way to putting to bed the notion that China can't build quality cars.
JAMES FOXALL
NIO ES8
A strong enough contender to make Europe's premium car makers start looking over their shoulders


Price  £51,500
Engine  Two permanent magnet electric motors
Power  641bhp
Torque 620lb ft
Gearbox Single speed, direct drive
Kerb weight 2460kg
0-62mph 4.4sec
Top speed 125mph
Range 222 miles
CO2, tax band 0g/km, 13%
Rivals Audi E-tron, Tesla Model X