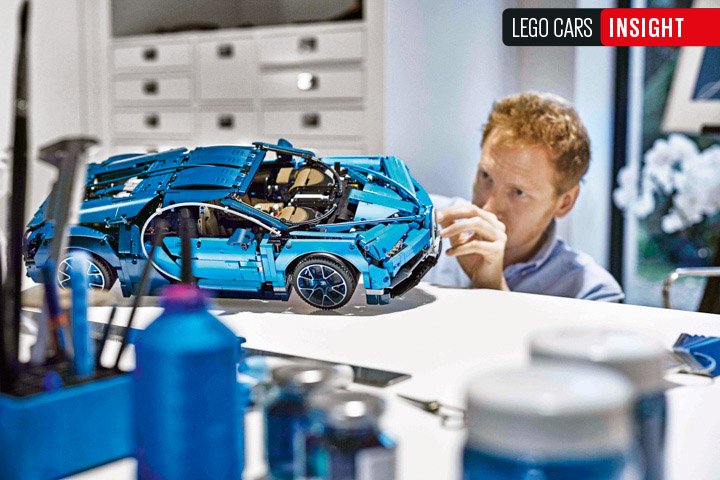 If you can't afford a real supercar, Lego might have the answer. Ronan Glon knows what he wants for Christmas
If you haven't got a spare £2.5 million to spend on a Bugatti Chiron, why not make your own? It sounds crazy but it can be done. All you need is Lego. Lots of Lego.
You might have seen the life-size Lego Chiron that was doing the rounds recently. It was built using more than one million Lego Technic pieces, along with 2034 motors and 4032 gear wheels from Lego's Power Function range. Okay, it only produces 5bhp, so its 12mph top speed is a touch less than a real Chiron's, but it's proof that you really can build anything with enough dinky Danish building blocks.
On the off-chance you haven't got one million Lego bricks around, you can buy a 1:8 scale Chiron set, which features 3599 pieces and costs £329.99 – a bargain compared to a real Chiron. And that's just the latest in a long line of Lego sets that appeal to car fans both young and old.
We tried to work out how many of these sets Hamilton could afford
HERE ARE SOME OF THE BEST OF BREED
Ford GT and GT40
Speed Champions
set #75881, £30
This 366-piece set includes two cars. Youngsters will likely be drawn to the miniature version of the Ford GT that won the Le Mans 24 Hours GTE class in 2016. More experienced brick-builders will perhaps prefer the stunning recreation of the black GT40 Mk2 that Bruce McLaren and Chris Amon drove to overall victory in the 1966 event. You even get a podium, a chequered flag and figures wearing period overalls.
McLaren 720S
Speed Champions
set #75880,£13
Given the brick-based nature of its construction, it's unlikely that this Lego recreation of the 720S is quite as aerodynamically efficient as the wind tunnel-honed McLaren original. Still, the 161-piece toy version does include many of the 720S's aero-sculpted wings and vents.
Porsche 911 RSR and 911 Turbo
Speed Champions
set #75888, £35
Can't decide whether you prefer the classic 1970s Porsche 911 Turbo or the most recent 510hp race-spec 911 RSR? With this 391-piece set you don't have to. Of course, like some buyers of the real thing you might want to wait for the Lego version of the recently launched new 911…
Mercedes-AMG Formula One team
Speed Champions
set #75883, £90
While notching up five straight drivers' and constructors' championship doubles, the all-conquering Mercedes-AMG F1 designers somehow found time to work with Lego on this miniature recreation of the entire team. The 941-piece set includes two W07 Hybrid race cars, a pit garage, a grandstand and, er, a hot dog stand. You also get figures styled after Lewis Hamilton and Valtteri Bottas. We tried to work out how many of these £90 sets Hamilton could afford on his salary, but we ran out of fingers and toes. It's a lot, though.
James Bond's Aston Martin DB5
Creator Expert
set #10262, £130
Q division's finest were presumably tasked with helping to recreate James Bond's 1964 DB5, as seen in Goldfinger. Once you've assembled all 1290 pieces, the finished Aston features a working ejector seat, revolving number plates and machine guns behind
the headlights. Just do try to bring it back in one piece, 007.
London bus
Creator Expert
set #10258, £110
Generically called a London bus, this double-decker kit is clearly styled on the classic AEC Routemaster and includes features such as a detailed driver's cab, the half-spiral staircase and reversible advertising posters. Lego notes that the 1686 piece set is difficult to find due to limited supply, but presumably if you look hard enough, three will come along at once.
Mini Cooper
Creator Expert
set #10242, £80
Don't let the external door hinges fool you: Lego modelled its Mini Cooper replica after an example built between 1996 and 2000. It's finished in British racing green with a contrasting white roof panel and it comes with period-correct tan seats as well as a walnut-coloured dashboard (made of plastic, obvs).
Volkswagen Bus
Creator Expert
set #10220, £85
The original, split-window Volkswagen Bus (aka the Type 2 Transporter) is unmistakable, even in 1334-piece kit form. It has the classic V-shaped front end, opening front windows and a pop-up roof. This set is configured in camper van form and includes curtains and fridge.