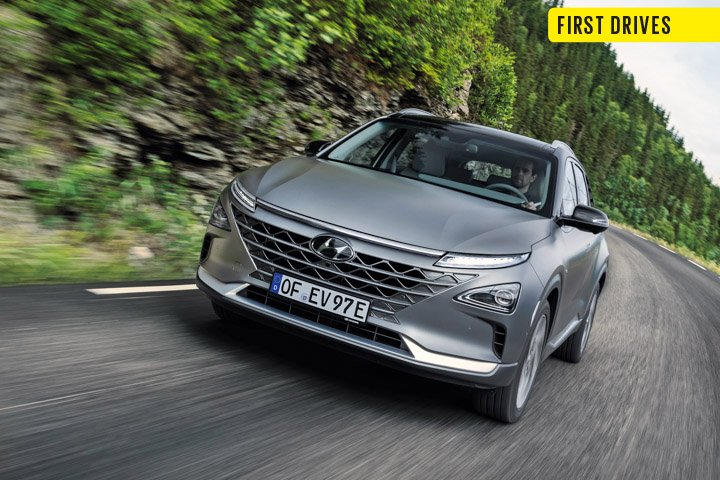 TESTED 10.7.18, NORWAY ON SALE EARLY 2019 PRICE £60,000 (EST)
Designed from the outset to use a hydrogen fuel cell powertrain,  this front-driven crossover provides a taste of the future today
The Hyundai Nexo is one of only a handful of hydrogen fuel cell vehicles that you or I could walk into a showroom and actually buy. It plays the parts of high-riding urban runabout, undemanding motorway hack and versatile family car rather well. As we'll discover, this is a perfectly adequate machine and there is plenty to like about it. But as we'll also discover, it suffers from the same chicken-or-the-egg problems of other hydrogen cars like the Toyota Mirai and Honda Clarity that prevent it from being something we can all enjoy. We'll get to that in a bit too.
The Nexo picks up where the ix35 Fuel Cell, launched in 2013, left off. It was the world's first mass-produced fuel cell vehicle. Unlike that car, though, which was an adapted version of an existing model, the Nexo was created from the ground up specifically for this purpose. As well as making it lighter, that means the Nexo is more efficient. Take the bodywork, which has been designed to be as slippery as possible. The underside is completely flat, there are air curtains that reduce drag front and rear and the door handles sit completely flush with the bodywork, popping out only when you need them. Even the wheels have been designed with aerodynamic efficiency in mind.
Then there are the hydrogen tanks. The Nexo has three, all mounted transversely across the rear of the car. They look like oversized scuba diving cylinders. Two are just ahead of the rear axle line, the third just behind it. By using three tanks – with a total capacity of 157 litres – rather than two like the ix35, the packaging is neater and boot space is preserved.
The Nexo might be the most important car on sale today but that's not enough to buy one
So the Nexo is a purpose-built fuel cell car. Hyundai quotes a 414-mile range (on the more stringent WLTP cycle) and says those tanks can be fully replenished in five minutes, little longer than it takes to refuel a conventional car. The point of all of this, of course, is that you have the range and flexibility of a petrol or diesel car, but nothing more harmful than water comes out of the tailpipe.
The Nexo takes learnings and engineering know-how from the ix35, but not its hardware. The fuel cell componentry is completely new, and the stack itself was designed and built in-house by Hyundai. At current UK prices, it would be slightly cheaper to refuel the Nexo than a similar petrol car and its range is comparable too. It feels exactly like an electric car to drive, albeit one with a relatively lightweight motor. You simply aren't aware that any clever chemistry is happening beneath that bonnet. The car is every bit as serene as a conventional EV. What it doesn't have is the surprising turn of speed of a typical electric car. Instead, it feels brisk enough to keep pace with traffic, but no faster.
There is regenerative braking to recoup some energy that would otherwise be lost and you can choose your preferred level of energy harvesting, from none at all to near enough single-pedal driving. Unlike with some EVs and hybrids, the Nexo's brake pedal is actually quite consistent and easy to modulate.
At motorway speeds, there is a pronounced wind rustle from the A-pillar, as though a window has been left open a crack, but otherwise the Nexo is calm and relaxing at a cruise. On race-track-smooth Norwegian roads (we're on the outskirts of Oslo because of the region's well-developed hydrogen infrastructure), the ride quality feels perfectly fine, although it remains to be seen how the Nexo's chassis deals with a really gnarly UK road.
The car is easy to drive around town, too, thanks in part to the elevated seating position, but out on a flowing, cross-country route, the Nexo is a little less impressive. The steering, for one thing, is bizarre, the wheel tugging lightly this way and that for no apparent reason, as though somebody has got a hold of the steering column and is trying to spook you out. In corners, meanwhile, the car feels heavy, tipping over quite markedly if you carry any meaningful speed through a bend. The Nexo weighs 1814kg and you feel every single kilo.
Within its comfort zone – on the motorway, in the city or in among gently flowing traffic on an A-road – the Nexo does exactly what it needs to do. But its comfort zone has no breadth. The cabin, meanwhile, looks very modern but also quite slabby. The flat, expansive centre console is littered with so many squared-off buttons that it looks like a game of Scrabble at the Rees-Mogg household.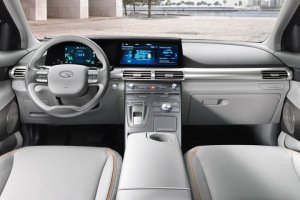 As an SUV-style car, the Nexo isn't at all bad. As a concept, being able to drive for more than 400 miles, while emitting only water, before filling up again in five minutes flat is nothing short of brilliant. It's game changing.
Yet so few of us will be able to enjoy it, for there are just 15 hydrogen fuel stations in the UK. If you don't happen to live near one, the Nexo – or any hydrogen car, for that matter – is a complete non-starter, a shame given how much potential the technology has for offering big ranges and zero emissions. There are plans to increase the number of stations to 65 by 2025, but until the infrastructure improves beyond recognition, hydrogen will continue to be a fuel of the future.
The Nexo does suffer for its high price. There is no exact figure just yet but it will not come in at any less than £60,000, positioning the car just below the £66,000 Mirai. The Hyundai badge doesn't carry it, nor does the driving experience, and the cabin doesn't feel it – even though the company has clearly tried hard with soft-touch, rubbery plastics, intricately drilled metal speaker grilles and so on. It's disappointing that almost four years after the Mirai, reducing the cost of the technology has made as little progress as the infrastructure to support it.
Hyundai says it already has hundreds of orders across Europe for the Nexo, mostly in countries such as Norway and the Netherlands that have invested in hydrogen. UK sales figures will be tiny. To give you some idea, the ix35 Fuel Cell found
17 buyers on these shores.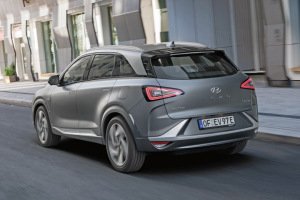 The Nexo isn't a straight-forward commodity like any other car, though. It doesn't exist to drive revenue. Hyundai has built this car because it wants to help further a powertrain technology that could play an important role in the cleaner future of personal transport. With that in mind, the Nexo might just be the most important car on sale today – but that's not enough reason to buy one.
Hyundai is working with Audi on hydrogen fuel cell technology to make it economically viable. By 2025, the two firms want to cut the cost of a fuel cell powertrain by half and reduce the overall cost of a fuel cell car by 30%. Then, and with better infrastructure, these cars will begin to make sense.
DAN PROSSER
A STACK OF ENERGY UNDER THE BONNET
Although hydrogen can be burnt and used in a similar way to petrol in a combustion engine, hydrogen fuel cell cars use the substance to generate electricity, which powers an electric motor. Hydrogen is mixed with oxygen from the atmosphere in the numerous cells that make up the stack – which, in the Nexo, sits where the engine ordinarily would – to generate energy in the form of electricity.
This process creates a slow and steady trickle, so the Nexo has a battery in the boot that stores charge for those moments when a large amount of electrical energy is needed at once – under full acceleration, for instance. The motor drives the Nexo's front axle via a single-speed transmission.
One of the challenges for a fuel cell car is very cold starting. The ix35 Fuel Cell could be started in temperatures as low as -20deg C but the Nexo lowers that to -30deg.
HYUNDAI NEXO
Decent enough to drive, the Nexo gives us a glimpse of a technology that isn't quite ready. Expensive too


Price  £60,000 (est)
Motor  Electric motor, hydrogen fuel cell stack
Power  161bhp (combined)
Torque 291lb ft (combined)
Gearbox Single speed, selectable deceleration rate
Kerb weight 1814kg
0-62mph 9.2sec
Top speed 111mph
Economy na
CO2, tax band 0g/km, 13%
Rival Toyota Mirai