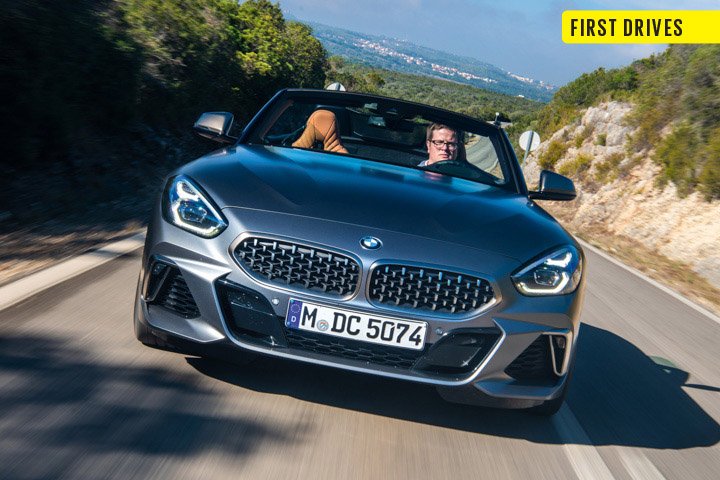 TESTED 20.10.18, PORTUGAL ON SALE NOW PRICE £49,050
New version of the roadster is on a mission to be far more engaging as a sports car without sacrificing its everyday appeal. Should Porsche's 718 Boxster worry?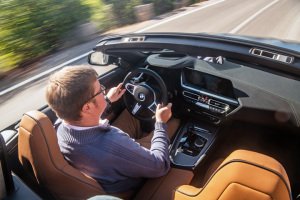 For better or worse, the Z4 has brought a sense of stability to BMW's sports car offering. For more than a decade before it arrived, the Munich car maker seemed only to be experimenting with various executions of two-seat good-time cars. The Z1, Z3 and Z8 had plenty of novelty value, but none won enough commercial success to survive beyond one model generation (although in the case of the Z8, that seems a bit bonkers when you think that its second-hand values have now risen well north of £200,000).
The Z4, on the other hand, has been successful enough to convince BMW to directly replace it not once but twice. The latest, third-generation version drops the folding metal hard-top of the second but is still slightly longer, wider and a natch heavier than its immediate predecessor. However, BMW will tell you that, chunkier or otherwise, this is an attempt to reverse the move made by its predecessor away from uncompromising driver appeal; to represent BMW's traditional sporting DNA as best a modern, front-engined, rear-driven roadster can, and maybe even give Porsche 718 Boxster S owners disillusioned with that contentious four-cylinder engine greater pause for a silken six-pot reverie than it has managed before.
This is the car BMW has been developing in tandem with industry giant Toyota since 2013, of course; the platform sibling of the incoming Supra. That fact, more than anything, may be the reason why BMW hasn't shrunk it down or changed it around too much, since doing so would only have made engineering the car on a common platform harder.
The handling is accurate and composed and it's plenty of fun to drive
What BMW has done, though, is to entirely redesign the car's axles (struts featuring up front and, for the first time in a Z4, a five-link system at the rear) with lightweight aluminium components adopted to save on unsprung mass; with new subframe mounting techniques used at both ends; and with track width growing at both ends, too – at the front, by a pretty significant 98mm.
At launch, buyers will be able to choose between 194bhp 20i and 255bhp 30i 2.0-litre turbocharged petrol engines. A 3.0-litre turbo straight six M40i version, with M Performance derivative status, glitters away temptingly at the top of the range and is endowed with 335bhp and 369lb ft of torque (which, Z4 fans will note, is actually no more grunt than the outgoing Z4 sDrive35iS had). The headline version of the new-gen car gets lightweight 18in alloy wheels as standard, as well as an eight-speed automatic 'box, lowered and adaptively damped sport suspension, uprated brakes and a torque-vectoring electronic locking differential.
It's pleasing to note that the car industry's elongated dabble with the folding metal hard-top is now mostly over. Cloth hoods are lighter, simpler and easier to package, all of which makes them a much better fit for any sports car. They seem to be able to seal a cabin at speed almost as well as a hard-top would these days.
They also reaffirm the central point about any convertible, it seems to me, via that sense of visual impermanence. A rag-top hood on a sports car is like Gene Kelly's fedora or an umbrella over the barbecue: it's a joyous thing. When it's up, you can tell it's only up under sufferance; and it'll be down again to let the sunshine in and the good times roll before you know it.
The new Z4's hood is nicer to look at than most. BMW supplies it in black as standard, but our test car's came in anthracite grey with a silver fleck, which made it look a bit like designer denim. Squeeze underneath that hood and you'll find a driving position that isn't quite as cabin-rear as the Z4's once was. It used to feel as if you were sat right on the car's rear axle, with acres of sheet metalwork out in front of you. That's not quite true of the new version: you're usefully closer to the middle of the wheelbase, sat low and nicely out of the wind, and with plenty of room for your legs and elbows.
The Z4 features BMW's new-generation Live Cockpit Professional digital instruments and its 7.0-operating-system infotainment set-up. It's also the first Z4 available with a head-up display, which is optional but probably worth having since those new digital instruments aren't as easy to read at a glance as they might be.
You'll need to keep a wary eye on that speedo, too, because the Z4 M40i can certainly stretch its legs. The turbo straight six pulls with guts and great throttle response from low crank speeds, and keeps pulling with smoothness and freedom in its delivery as well as with force. BMW's preference to dial in a contrived amount of imitation engine noise in the more dynamic drive modes was a bugbear for this tester; but drop the Z4's roof and the foible becomes less annoying than it might be in a saloon or coupé, with more genuine exhaust and induction sound reaching your ears through the fresh air rushing around your head.
And what of the rest of the driving experience? Should those 718 Boxster owners we mentioned get ready to jump ship? I dare say some will – but I wouldn't be in a mad rush. The new Z4's ride and handling are both greatly improved compared with its predecessor's. It's now a car with fine body control, and with a chassis that combines trademark BMW rear-driven handling poise with lots of lateral grip and traction. The handling is accurate and composed, it has useful high-speed stability and it's plenty of fun to drive. But it does feel quite sizable on the road; and the easily won agility and tell-tale supple tautness that you hope to find in any truly absorbing sports car are notable by their absence.
it takes familiarity and effort to find an 'individual'-mode combination of powertrain, suspension and steering settings that is to your liking, just like in so many BMWs. Even when you've discovered it, you won't find a car that'll entertain quite like the very best £50,000 driver's cars here. The Z4 steers with precision for the most part, but its rack is a bit short on tactile feel and the car can dive into tighter corners with a gathering off-centre pace that's a touch unsettling at first.
The chassis's preference is for an assured hold on the road whose margins of lateral grip can be hard to gauge. Meanwhile, the ride feels so tightly damped at times that it leaves little room for fluency; something that discouraged this tester in particular from sticking with the car's sportier driving modes.
The new Z4 will therefore probably make a better buy for people looking for a fast, luxurious, two-seat roadster-cum-cruiser than for those seeking a really compelling sports car. Which sounds familiar. The Z4 is still not quite representative of BMW at its very best, I'd argue, but it's certainly getting warmer, better and generally nearer the mark as a driver's car, by the generation.
MATT SAUNDERS
USE YOUR PHONE TO OPEN AND FIRE IT UP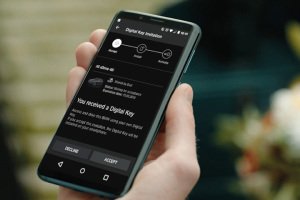 If you're the kind of person for whom keyless ignition still seems like a backwards step, this'll be anathema: BMW's latest security and convenience development, available on the new Z4, is a smartphone app that allows you to open and drive the car without the key.
The BMW Digital Key allows the owner to authorise up to five smartphones for access to their vehicles. It works using near-field communication technology and, at present, you need a particular model of phone (made by Samsung) to make it work. But if you're appropriately equipped, you can unlock the car using your app, and start the engine so long as your phone is either in the car's wireless charging tray or the smartphone cradle.


TESTER'S NOTE
The new Z4's 281-litre boot is 50% bigger than that of the previous-generation car; is the same volume with the roof up or down; and even has a ski hatch. Strikes me that you can't really expect better of a two-seat roadster. MS
BMW Z4 M40i
BMW's Boxster rival is better to drive than ever but still a better high-day roofless cruiser than true sports car


Price  £49,050
Engine  6 cyls, 2998cc, turbo, petrol
Power  335bhp at 5000-6500rpm
Torque 369lb ft at 1600-4500rpm
Gearbox 8-spd automatic
Kerb weight 1535kg
0-62mph 4.6sec
Top speed 155mph (governed)
Economy 38.7mpg
CO2, tax band 165g/km, 34%
Rivals Audi TT RS Roadster, Porsche 718 Boxster S