Tested 1.4.18, South Downs On sale now Price £112,450
How does Audi's rear-drive supercar cope with the UK's roads?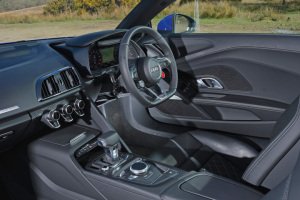 For the first time in its 12-year history, Audi's mid-engined supercar is available with rear-wheel drive. The R8 RWS (for Rear Wheel Series) junks the standard model's front driveshafts, centre differential and propshaft, saving 50kg. The suspension geometry has been tweaked and a beefier front-anti roll bar fitted to add some safety understeer to the car's balance.
Despite 533bhp now being deployed by the rear axle alone, the RWS – tested here in the UK following our European drive in February – still has bundles of traction, thanks to wide rear tyres and the weight of that mid-mounted V10 pressing them hard into the road. What's changed for the better is the steering, which is purer, less corrupted and much easier to read. Four-wheel-drive R8s only really come alive when you remove your brain and light the fuse, but the RWS is absorbing and fun at all speeds.
On passive dampers, the ride is very well judged. It's tense at low speeds, but with pace, the suspension smothers a bumpy road surface and absorbs heavy compressions, all the while keeping the body under tight but not stubbornly iron-fisted control. Compared with a standard R8 fitted with adaptive dampers and dynamic steering (neither of which can be specified on this variant), the RWS is brilliantly pure and simple. It leaves you to get on with the driving yourself, rather than assuming it can do it all so much better.
All that's missing is a manual gearbox. The dual-clutch unit is at least ferociously quick and responsive, though. The 5.2-litre naturally aspirated V10 is a masterpiece, too, revving high and hard but with an underlying silky smoothness. It's worth saying the RWS uses the tamer of Audi's pair of V10s, the one that develops 533bhp rather than the 603bhp version. You would feel shortchanged only if you'd sampled both motors back to back.
At £112,450, the RWS coupé is the cheapest R8 you can buy. It's also the sweetest and most enjoyable to drive. It's limited to 999 units worldwide across coupé and Spyder body styles, though, so you'll have to move quickly.
DAN PROSSER
Audi R8 RWS
By removing the four-wheel-drive system, Audi has created the sweetest and most compelling R8 yet


Price  £112,450
Engine  V10, 5204cc, petrol
Power  533bhp at 7800rpm
Torque  398lb ft at 6500rpm
Gearbox  7-spd dual-clutch automatic
Kerb weight  1590kg
Top speed 199mph
0-62mph  3.7sec
Economy 22.8mpg
CO2, tax band 283g/km, 37%
Rivals McLaren 540C, Porsche 911 Carrera GTS