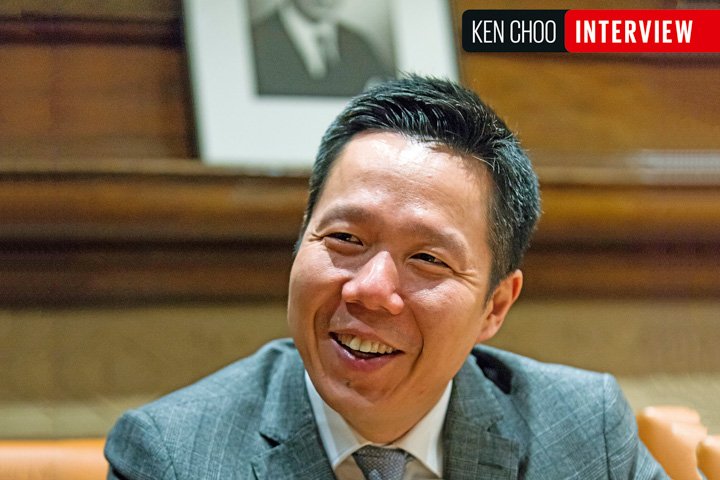 HR Owen boss Ken Choo tells Steve Cropley about the evolving luxury car market, the art of the soft sell and how he juggles his role as Cardiff City CEO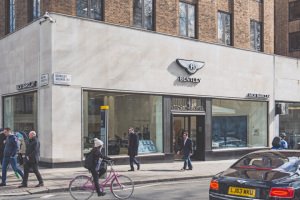 It's not about hard selling. Not any more. Spend an hour or two with Ken Choo, CEO of London's Bentley dealership Jack Barclay – flagship of the countrywide HR Owen network of 15 luxury car dealerships – and you'll soon learn that the process that delivers prestige cars into the hands of new owners no longer involves old-style persuasion.
Neither do Choo and his team want it that way. They're well aware that today's luxury car buyers arrive with a pretty good idea of what they want (having usually done prior research online) and they have an even clearer view of how they want to be treated. Dealers are for helping them realise their dreams, and emphatically not for coercing them into unwanted actions.
"We won't chase people," says Choo. "Instead, we create events and opportunities they want to join. We had 500 guests at the recent Geneva motor show, and they tell us they had a great time. This kind of thing gives us opportunities to know our customers and understand what they want. There's a lot of trust and goodwill in this business nowadays, or should be. It's founded on continuity, not one-time profits."
Which begs a big question. Choo has just spent big money refurbishing the famous Jack Barclay showroom, a London landmark for 86 years: if sales centres aren't needed, what was the point of that? "It's our window on the world," explains Choo. "We use it to meet people, to understand and follow trends and, of course, to display our latest cars. We deliver cars from here, too, if that's what buyers want. And because the place has such a history, many of them do."
There's a lot of trust. It's founded on continuity, not one-time profits
Choo, a quietly spoken 45-year-old Malaysian who trained in accountancy in Australia, had precious little knowledge of the luxury car game before he arrived in Berkeley Square at the beginning of last year but believes his fresh eyes have helped progress the business in new directions.
A dozen years ago, his skill at finance caught the eye of the Malaysian billionaire Vincent Tan, best known for his eventful ownership of Cardiff City Football Club. Tan set Choo a series of ever more challenging jobs in his multi-faceted Berjaya Corporation before bringing him to the UK to manage and expand a Berjaya hotels group. In 2014, Choo became general manager of Cardiff City, soon rising to the chairman and CEO position he holds now. Last year, he also assumed the role of CEO at the HR Owen group: no-one could say his roles and skills weren't many and varied.
Tan and Berjaya have had a controlling interest in HR Owen since 2013 (Tan experienced a level of customer service that "could be better" while buying a Rolls-Royce, so he bought the company), but Choo's mission was to improve things. "We were faced with an important decision about refurbishing Jack Barclay," he explains. "First of all I did some research to understand the history we needed to maintain. Then I needed to hear from the car companies and know their plans for the future, especially Bentley. We knew we needed to invest to find more customers, but that we needed to feel confident about the companies."
The resulting refurbishment of the showroom went ahead (it opened officially in March) and the work has been done with a subtlety that equally pleases lovers of contemporary spaces and of timeless features like the original metal doors, tile flooring, wooden wall panelling and even founder Jack Barclay's original filing cabinets and boardroom table.
Nowadays there's a discreet door leading into the UK's only Bugatti showroom next door, and a similarly close relationship with Rolls-Royce Motor Cars London on the other side. Under Choo, the Rolls dealership has just achieved a perfect score on every assessment point by the parent company: sales, service and everything in between.
After little more than a year, Choo has developed close relationships with the luxury car companies – which know full well he commands one of the northern hemisphere's most powerful luxury dealer groups, and have recently learned of his ambitious plans to expand more. He reckons Ferrari has the model line-up with the widest appeal, rates Aston Martin chief Andy Palmer as the "most innovative" from a marketing point of view and likes dealing with Rolls-Royce's "very honourable" management (and has high hopes for the sales prospects of its forthcoming Cullinan SUV). He expects "good progress" from Bentley under its proven new boss Adrian Hallmark, and he has been working hard on Lamborghini's Stefano Domenicali to liberate larger supplies of the right-hand-drive Urus SUV. In several areas, HR Owen boasts 30% to 40% new customers, and the average age of buyers is falling too, though traditionalists remain an important buyer group.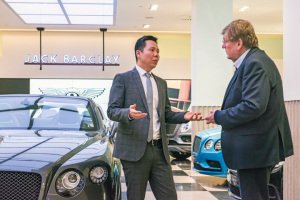 New models such as Urus and Cullinan are bringing different customers into the luxury car business and the trend will continue, says Choo. "Understanding model plans and cycles, and getting good supplies of cars, are the subjects at the top of my agenda," he explains.
"There's a sizeable group of customers that only wants to deal with us," he says, quietly stating facts, not boasting. "People see our numberplate as an asset. If we can't get it from you, they say, then we don't want it at all." A
PHOTOGRAPHY LUC LACEY
CAR CHIEF IS ON THE BALL
Ken Choo sees no conflict between the diverse businesses he leads as CEO: the HR Owen luxury car group and Cardiff City Football Club. In fact, he says the two activities can be quite helpful to one another. His policy of creating "experiences" for car customers had led to car owner groups attending games: "We had about a dozen HR Owen customers in the directors' box when we played Manchester City in the FA Cup, and they had a great time."
Even eating up the 150 busy road miles between London and Cardiff isn't a problem: Choo's usual choice is a Ferrari 812, while his wife prefers the latest Lusso. Despite the boss's preferences, Choo notes a strong preference for Astons in the car park at Cardiff. "They're very popular," says Choo. "We practically have to block the entire first row of the directors' car park to get them all in."