To mark 60 years since the Nuova 500 was launched, Richard Webber wrests a current Fiat 500 from its urban comfort zone for a loop of Scotland's spectacular North Coast 500.
Photography by Luc Lacey.
Corks are popping in Turin. Prosecco is being skilfully spilled down throats in celebration of the Fiat 500's 60th birthday. And with good reason: the Nuova 500s that left the city's Mirafiori plant on 4 July 1957 became the first of four million, and two million more have been shifted since the 500 badge was revived a decade ago.
The little Fiat has come a long way. As has our particular example, a sportily trimmed petrol 1.2 S. Born at the Tychy plant in Poland, it has been brought by us to the still, hushed gloaming of Glen Torridon in the Scottish Highlands. We're 1400 miles by road from Turin, but it might as well be a million. Even the Romans didn't make it this far. It's 10pm and photographer Luc Lacey is eking out a shot from the remaining light. In half an hour, we'll be in a lochside hotel, making our own toast with a whisky that has been hiding in a cask since before the millennium. Yes, we're celebrating the 500's big six-o with a lap of the North Coast 500.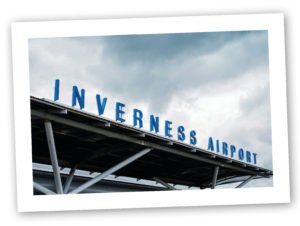 Our journeys began earlier that day: mine from Edinburgh by road, Lacey's from London by air. We met at Inverness Airport. The 500 had proved a surprisingly adept cruiser on the long slog up the A9. We know it's accomplished in town, too – easy-going, nimble and small enough to dock where others daren't – but will it be a fish out of water on the 500 miles of helter-skelter tarmac that make up the North Coast 500? With just 68bhp and 75lb ft, it's likely to be the least potent car out here. And despite its tiny kerb weight of 865kg, 0-62mph takes 12.9sec. Given just three days to cover the route, the little car faces a big challenge.
With the rear backrests dropped to accommodate Lacey's photographic kit, we're paying homage to the 1957 car's two-seat layout. Not much we can do about the rest, though: front-engined, front-drive and front-hinged doors all contradict the original. Our car has five times the power, twice the weight and it's 30% longer, too.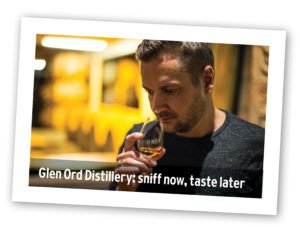 We begin with an easy westward hop from Inverness to Glen Ord Distillery, where ancient alchemy has been transforming barley, yeast and water into whisky since 1838. Manager Alastair Orr shows us the wooden washbacks filled with warm, swirling, beer-like brew and the six enormous copper stills that turn it into single malt. The distillery is a regular stop-off on the route – they're expecting a group of Porsche owners that afternoon – and samples are provided for drivers to enjoy later.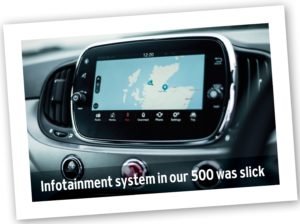 We press on into verdant Glen Carron, where the tree-lined road narrows to a single lane – like much of the route – that's flanked by increasingly steep hills. The surface roughens, and although most scars, bumps and ridges are tidily rounded off by the 500's strut front and torsion beam rear suspension, tyre roar from our car's optional 16in rims becomes quite prominent. Lacey's solution is to fire up the impressively slick Uconnect infotainment's optional Beats sound system, which belts out his library of maudlin beep-boop commendably.
The engine itself – quiet when dawdling – get louder as we push the revs but is never overbearing and remains smooth. It will pull from low down but does its best work between 3200rpm and 5800rpm. Despite carrying a 200kg payload of bone, blood, meat and luggage, 68bhp does us just fine on the flat.
With blind bends and passing places aplenty, we're having to work the gearbox hard, though. Its light, medium-throw action has enough tautness to reassure and doesn't mind being slammed down a ratio – vital in low-powered cars, where momentum is king. The shifter's raised position by my left knee is ideal for our compact cabin.
We bimble along Lochcarron's neat waterfront of shops and houses, then rise over the headland towards Ardarroch on a corkscrewing road that's part weathered single track and part gleaming, EU-funded two-lane. There's a chance to throw the Fiat around a little here and it responds pretty well. Body roll stays within reasonable limits, the front end is surprisingly tacky and the soft, bounding ride deals neatly with undulations where something firmer, such as an Abarth variant, might become reactive and skittish. On the other hand, turn-in is a bit lazy, the helm weighting feels quite artificial and there's no real feedback. Hardly serious concerns for a city car that starts at £11,615, but Ford got more from a similar footprint in the original Ka.
Then it's on to Bealach na Bà – the Applecross Pass – where we take our turn among the enormous motorhomes, rented saloons, vintage Kombis and anguished cyclists climbing the famous, writhing mountain track. Here, the engine strains more than it will anywhere else, but despite their urban origins, the 500's tight turning circle, super-light City steering mode and automatic hill-hold come in handy while shuffling about on the mountainside for Lacey's camera. At the summit, we're rewarded with epic views back to the sea. It's the kind of monumental landscape that leaves you feeling humbly Lilliputian.
At the Applecross Inn, we take on seafood sustenance by the tranquil bay. Then begins the golden hour – that heavenly slot after tourists retreat but before sunset – when the roads are empty. The Applecross Peninsula is ours, a playground in which to push the 500 to its limits where performance machinery wouldn't break a sweat. The coastal blast is punctuated by an imposing stag standing sentry by the road and a rabble of Highland cattle roaming over it. Then it's into the otherworldly 'knock and lochan', where the road dodges between low, craggy peaks and glassy little lochs. I'd rather be in a 104bhp Twinair – for its aural entertainment almost as much as its added punch – but we're having fun nonetheless as we sprint on up deserted Glen Torridon to an overnight stop by Loch Maree.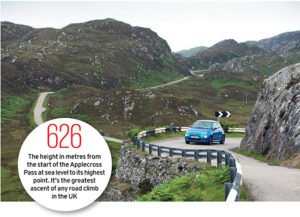 The next morning at Gruinard Bay, we see our first glimpse of that lovely buttery sand that fills so many nooks on this western coast and makes the sea glow light blue. Then there's a big vista over Little Loch Broom, where sheets of rain trip across the looming peaks ahead. Often clogged by columns of Hebridean ferry traffic, the A835 along Loch Broom to Ullapool is joyfully quiet. Fast, sweeping turns lie between straights, where quick downshifts help urge the 500 into overtaking manoeuvres. Speed is not the throwaway commodity here that it often is in modern performance cars.
By Loch Assynt, we pass the eerie ruins of Ardvreck Castle and Calda House, both objects of inter-clan squabbling in previous centuries, and reminders that while these glens have always been beautiful, they've not always been peaceful. We pause at Kylesku Bridge, the iconic concrete structure that somehow melds with its wild surroundings. Before it opened in 1984, missing the ferry meant a 110-mile detour.
"John Lennon became an early casualty of the North Coast 500, binning his Austin Maxi in 1969"
After jutting inland, we track the River Dionard – so shallow of gradient as to be barely moving – then skirt along the vast, tidal sands of the Kyle of Durness and into Durness village, our first stop on the windswept north coast. With some relief, we find an unmanned 24-hour petrol pump. It's best to fill the tank whenever you can up here.
Durness is a remote, beach-studded haven with an unlikely claim to fame. John Lennon holidayed here man and boy and became an early casualty of the North Coast 500, binning his Austin Maxi in 1969. He'd no doubt have approved of nearby Balnakeil Craft Village, though. A product of the same era as the Nuova 500, it was a Cold War early-warning station but is now an artists' commune. As I stroll past its revitalised buildings, it's hard to imagine the sinister threat that created them.
Another dusk scamper on deserted roads – this time along Loch Eriboll, occasionally a sheltered hideout for Royal Navy ships – has us tickling the 6100rpm limiter en route to our hotel in Tongue. Although there are drums at the back and pronounced dive under hard braking, the reassuring stoppers remain up to the task, too.
By day three, the best roads and biggest landscapes are behind us, but our journey back to Inverness is studded with intrigue nonetheless. Firstly, our Fiat momentarily takes pride of place at the tip of Britain in front of the former John O'Groats Hotel. As one of the regional starting points for the 1926 Monte Carlo Rally, it was from here that Victor Bruce in his six-cylinder AC became the event's first British winner.
"We stop at Ebenezer Place, the world's shortest street. It's only 17cm longer than the 500 is wide"
In Wick, we stop at Ebenezer Place, officially the world's shortest street – effectively just one address. It's a squeeze even for our tiny city car and we have to park nose out: the street is only 17cm longer than the 500 is wide. And near Golspie, we visit grandiose Dunrobin Castle, seat of the Earls of Sutherland. With 189 rooms, its own train station and sprawling formal gardens overlooking the Dornoch Firth, it's an overwhelming sight, incongruous on this remote, rugged coast. The spired castle hosts a vintage car rally every August, which would no doubt have pleased the fourth Duke of Sutherland, first president of the RAC.
The odometer ticks past 500 miles before Inverness Airport, where I deposit Lacey. By the time I'm back in Edinburgh, the Fiat has covered 916 miles in three days. Away from its natural habitat, the car has done remarkably well. I'd gripe about the seat squabs, which tilt rather than lower properly, and the roar from our upsized wheels. And keener, more natural-feeling steering would have enriched the driving along twistier roads. But the 500 was amply roomy and its modest power didn't stop the fun, nor did its generous ride quality prevent us from grabbing the scruff of its neck on those memorable, traffic-free evening sorties.
Certainly, our little 500 has punched above its weight. And should auld acquaintance be forgot, that's just like its 60-year-old forebear. L