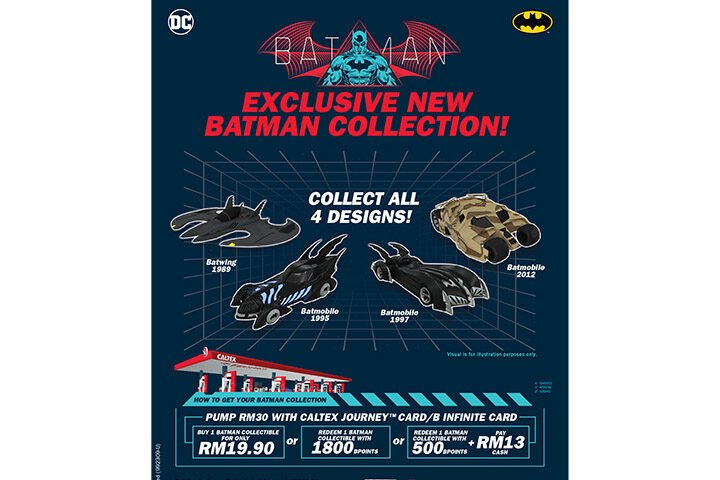 Batman Collection available again at Caltex stations 
The Batman Collection is available once again at Caltex stations. The Collection was last offered at Caltex stations in 2019.
Caltex is offering Journey loyalty cardholders the four figurines again, each one available separately at RM19.90 for a minimum purchase of RM30 worth of fuel, paid for by cash, credit/debit card, StarCash, StarCard or ShopeePay.
CaltexGO app users may purchase the figurines at a discounted price of RM17 per figurine with the same conditions: minimum purchase of RM30 of fuel and paid for by cash, credit/debit card, StarCash, StarCard or ShopeePay. Fans who meet the Eligibility Criteria can also purchase an exclusive Collector's Kit at RM49.90 to show off their collection. Batmobiles collectibles are sold separately.
Other ways to get the Batman Collection:
The Batmobile figurines are available for RM19.90 on Caltex's Official Store on Shopee. Purchase a selected lubricant produce to be eligible. Alternatively, RM4 discount e-vouchers selling at RM0.01 are also available on the Shopee App while stocks last. The e-vouchers can also be used to purchase fuel and lubricants.
Journey card members can redeem one figurine by spending 1,800 BPoints or a combination of 500 BPoints and RM13.
AirAsia customers: redeem BIG points for a RM50 StarCash on Air Asia Big Loyalty app that can be used to purchase the collection at Caltex stations.
In conjunction with this latest Batman Collection, a Collector's Kit and RM100 StarCash are up for grabs through the Caltex Snap, Tag & Win contest. To participate in the contest, customers must take a selfie with the Batman standee located at Caltex stations and upload it to Caltex Malaysia Instagram while completing either of the following captions.
• "Saya suka Batman Collection kerana…" dan #CaltexMY #CaltexCubaTry #CaltexBatmanCollection ​
• "I like the Batman Collection because …." and #CaltexMY #CaltexCubaTry #CaltexBatmanCollection
Winners will be announced on 30 November 2021 and 31 December 2021 respectively. Additionally, every RM30 ShopeePay transaction at Caltex stations will result in one entry to win a Collector's Kit that will be announced on the same dates.
More information can be found at www.caltex.com/my/.