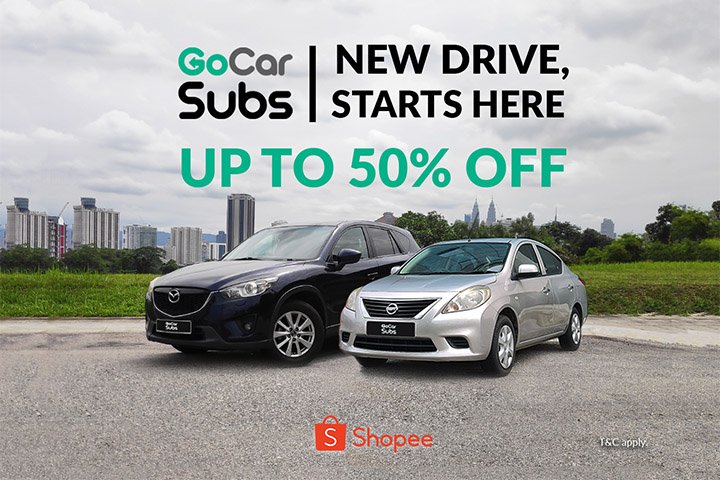 GoCar Subs reductions up to 50 per cent

exclusively through the GoCar Official Store on Shopee
Until 31 January 2021, GoCar is offering 50 percent reductions on selected GoCar Subs monthly plans. This is exclusively through the GoCar Official Store on Shopee.
Additionally, first time users of GoCar Sharing can also enjoy savings of up to 50 percent. GoCar Sharing offers customers the flexibility and convenience of opting for hourly or daily one-way or round trips depending on their needs.
For 2021 GoCar is introducing new models to its GoCar Subs platform. These cars include the new Honda City, new Mitsubishi Xpander, new Nissan Almera Turbo and new Proton X50. More information will be on GoCar's Facebook and Instagram channels and the GoCar Subs website. Be one of the first to be updated by emailing subs@gocar.my with your details.
Save 50 percent on selected GoCar Subs monthly plans
Exclusive on Shopee, GoCar Subs is offering 50 percent reductions on selected monthly plans. This offer is valid for the following models:
Category

Model

Plan

Monthly normal rate

Special rate via Shopee

Econ
Perodua Axia

Monthly

RM1,499

RM749

Econ

Perodua Myvi

Base
Toyota Vios

Monthly

RM1,699

RM849

Base
Nissan Almera
Plus
Honda Civic

Monthly

RM1,899

RM949

Plus
Nissan Sylphy
Exec
Mazda CX-5

Monthly

RM2,599

RM1,299

Exec
Honda Accord
Luxe
Toyota Mark-X

Monthly

RM3,199

RM1,599
Customers can book their preferred model via Shopee from 7 – 31 January 2021 to enjoy these special rates and they have until 28 February 2021 to collect their vehicle. Availability is on first-come, first served basis and customers will also enjoy a 10 percent Shopee coins cashback when they make their booking.
To view vehicles on offer, visit the GoCar Shopee store.
New customers who sign up for GoCar Subs can also enjoy additional savings through the NEW2SUBS promotion, which continues until 31 January 2021 with the following benefits:
Free first month subscription fee

50 percent off the second and third month subscription fee

Free monthly mileage upgrade from 1,650km to 2,500km

SWAP fee waived for the first year
To view the full GoCar Subs garage listing, visit //www.gocarsubs.com/ourgarage.php.
Get a taste of GoCar Sharing via NEWTOGOCAR
For customers who need hourly or daily use of a vehicle, the NEWTOGOCAR promo code continues for the month of January, offering customers 50 percent off their first booking for round-trips via the GoCar mobile app. The exclusive promotion continues till 31 March 2021.
Download the free GoCar app on App Store or Google Play.