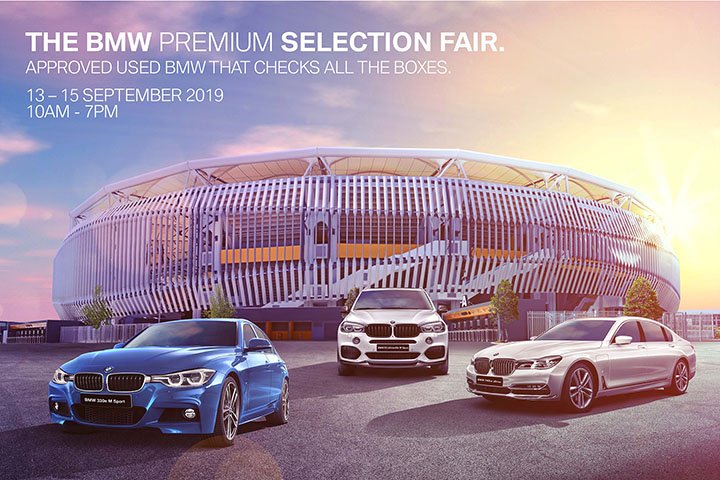 BMW Premium Selection Fair will feature pre-owned BMW, MINI and BMW Motorrad vehicles at key locations across Peninsular and East Malaysia from 13-15 September
The 2019 BMW Malaysia Premium Selection Fair will be taking place from 13-15 September all over Malaysia.
In Kuala Lumpur, it will be at Bukit Jalil Stadium. The first 300 buyers will receive one year's BMW or MINI comprehensive motor insurance with their purchase and also a BMW Advanced Car Eye dash cam. The BMW Advanced Car Eye is a full-HD camera for recording around the car day and night.
All visitors who purchase any BMW Premium Selection vehicle will also be in the running to win exclusive BMW and MINI lifestyle merchandise via a lucky draw.
In addition, selected BMW dealerships across Malaysia will also be hosting BMW Premium Selection events at major locations:
CityOne Megamall by Regas Premium Auto Kuching
Carpark beside One Stop Premium Outlet, Kolombong by Regas Premium Sabah
C-Mart, Alor Setar by Lee Motors.
Wearnes Autohaus will hold their BMW Premium Selection Fair in-house.
Pre-owned models available will include the BMW X5, BMW 3 Series and BMW 7 Series. Also, models from MINI and BMW Motorrad. Test drives for all models displayed will be available throughout.
Details of the BMW Premium Selection Fair:
Date: 13 – 15 September 2019
Time: 10:00AM – 7:00PM
Venue: Carpark B, Bukit Jalil Stadium
Before the Fair starts, you can now preview over 500 units of pre-owned BMW and MINI vehicles on the BMW Premium Selection official website then test drive the models at the fair. More information about the 2019 BMW Premium Selection Fair and exclusive benefits can be found at //www.bmwpremiumselection.com.my/.