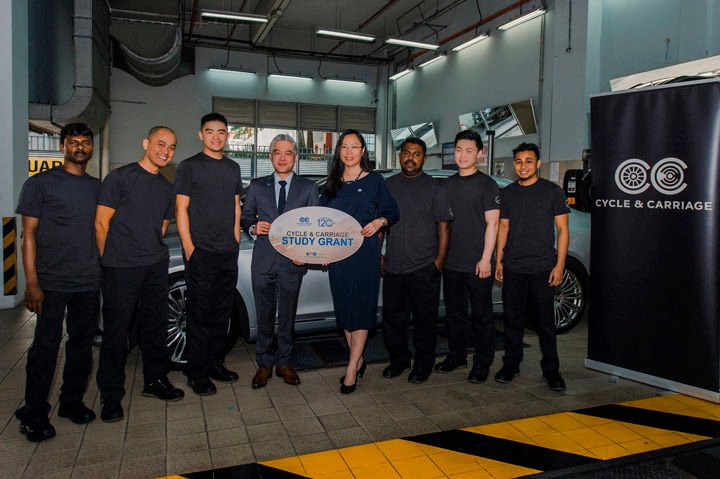 Open to five students year on accredited automotive skills training courses, the grant is worth RM5000 annually
Cycle & Carriage Bintang Berhad is supporting automotive technical and vocational education for young Malaysians with the launch of the Cycle & Carriage Study Grant. The creation of the educational fund is to mark the company's 120th anniversary this year and is aimed at improving opportunities for disadvantaged youths in the belief that it would help break the cycle of poverty.
The Cycle & Carriage Study Grant is open to Malaysian youths aged 16 years and above who are currently enrolled in or have secured a placement in an automotive course within a skills training institution accredited by the Department for Skill Development (DSD) of the Ministry of Human Resources or Ministry of Higher Education (MOHE).
The initiative is targeted at youths requiring financial assistance and who come from families with a monthly household income of RM3,000 and below. Each year five candidates will be selected as recipients of the Cycle & Carriage Study Grant and they will each receive up to RM5,000 annual bursary for a maximum of three years of studies.
The application process, which is conducted from March to April, will be followed by an interview with the Cycle & Carriage selection committee in May. Other requirements include a minimum credit 2 in English and Mathematics either at the Pentaksiran Tingkatan 3 (PT3) or Sijil Pelajaran Malaysia (SPM) or Sijil Vokasional Malaysia (SVM) level.
With the largest Daimler AG certified Mercedes-Benz aftersales network in Malaysia, Cycle & Carriage will also be able offer the youths quality hands-on experience, which is integral in the technical and vocational education. Grant recipients will be provided with paid internship opportunities within the Cycle & Carriage network for greater exposure to actual working environments, learning directly from qualified and experienced technicians. 
Interested applicants can apply for the Cycle & Carriage Study Grant through //bit.ly/CCBStudyGrant