The Malaysia Autoshow 2018 is on now until Sunday 29 April at Malaysia Agro Exposition Park at Serdang.
It's the fourth major automotive sales show in Kuala Lumpur in just two years but the Autoshow is not small on exhibits, despite being last held in November 2017. There are special booking offers galore, test drives and demos going on both indoors and outdoors throughout the four days. Maybank, the Finance Partner for the Autoshow, is offering special finance packages for cars purchased during the event. There are also eight holiday packages within ASEAN (complete with flight and accommodation) and also a Kia Picanto to be won.
Toyota is offering off-road testing of its 4X4s on a course of undulating slopes and troughs which if the weather cooperates will become a genuine test of driver skills in mud baths and slippery slopes. Other marques which will also have special testing courses set up are Mitsubishi, an obstacle course; Honda to demonstrate their Honda Sensing technology and Perodua to showcase their Autonomous Emergency Braking.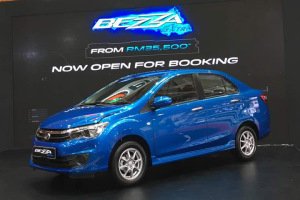 New car launches started with Perodua's Bezza GXtra 1.0, a new entry-level model of their popular saloon. At between RM450 to almost RM1000 less than the out-going base model that it replaces, but with more equipment and classier styling, the Bezza GXtra represents great value for families. Take a look around, sniff the new cabin smell of the GXtra and make your booking at the Autoshow. There are special discounts on various models. Perodua also has Gear Up accessories for sale.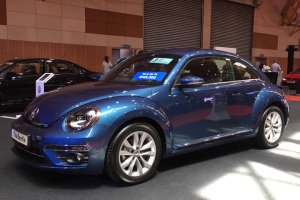 Volkswagen launched the Golf 1.4 TSI with R-Line styling at the Autoshow but also on display are the new Golf R and Golf GTI, Vento, Beetle, Passat and Tiguan. Test drives are available so take a few rounds of the MAEPS grounds and find out what made Volkswagen the world's largest automaker by sales in 2016 and has kept the brand the best-selling marque in Europe for over two decades. All Volkswagens come with three years free maintenance, five years free roadside assistance, five years manufacturer's warranty – if you need any reassurance that what you feel in your hands is also a good idea in your head.
Jaguar Land Rover Malaysia launched the Range Rover Velar just over a week ago and it is on view at the Autoshow as are two Land Rover Defenders and the Jaguars XF and the F-Pace SUV. Honda has a biggest presence with cars, bikes and merchandise spread over two stands. All the major car brands are at the Autoshow so make it point to visit all the halls and to check out the outdoor stands or you might miss something like Mercedes-Benz which is outdoors, showcasing their new EQ Mobility platform.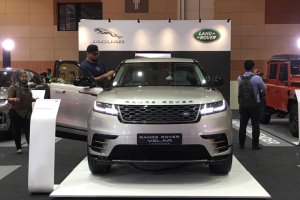 Over in Hall C along with Volvo classic cars, American Muscle Cars and Ford, is Borgward, making its first appearance in Malaysia ahead of its official launch in May this year. The car company that was once at the forefront of German engineering and technology. Borgward made the Isabella, one of the most popular German premium models in the 1950s, but was forced into liquidation in 1961 amid conspiracy theories that it was the target of jealous fellow-German car makers.
The Borgward automotive marque is back, helmed by Christian, the grandson of the original Borgward owner, Carl. Combining German engineering and technology with China financial backing and manufacturing, Borgward is offering a preview of two of their SUVs, the BX5 and the BX7. Borgward had sold 75,000 units of its SUVs by January 2018.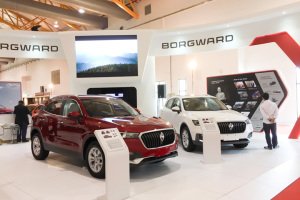 The Borgward BX5 comes in 2WD and 4WD models powered by 1.4-litre turbo or 1.8-litre turbo engines with either six-speed manual or auto gearboxes. Meanwhile the larger BX7 is powered by a 2.0-litre turbo with six-speed auto transmission. Again it's either 2WD or 4WD but the larger form also means a choice of either a five seater or a five-plus-two configuration with two foldaway seats in the floor of the cargo area. The matt paintwork seen on the BX7 in the picture is not a wrap but an original factory paint finish offered for the top-spec model.
The Autoshow is not just about cars for sale. There are also exhibitors for e-scooters, in-car entertainment, car accessories and also Pos Malaysia, of which more later.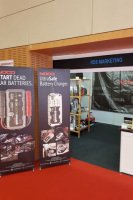 One particular accessory booth that caught our eyes was the RDS Marketing stand in Hall A which sells Noco car battery trickle chargers and portable lithium-ion jump-start kits from the US. The portable jump-start kits are extremely compact –  some units are smaller than a plastic takeaway food box – but starting at RM500+ for the smallest capacity 400Amp unit for juicing up petrol cars of up to 4.0-litres, it's not for the average driver with a bi-annual flat. However, if you rotate a fleet of cars, this would be extremely handy for last-minute battery emergencies.
More affordable for low mileage drivers are two battery trickle charge options. First is a solar unit that you can attach to your dashboard or windscreen and either charge through your cigarette lighter point or attach clips direct to the battery nodes. This starts at around RM217 for a 2.5w unit. There is a larger 5w unit at RM441. Alternatively, there are mains-powered plug-in trickle chargers of various sizes starting from RM299. If you go away and leave your car undriven for long periods of time, these are two convenient and cost-effective chargers to make sure your battery is still ready to go when you return.
And finally, also in Hall A is Pos Malaysia, offering postage stamps personalised with the image of your choice at a special discount for the duration of the Autoshow. A sheet of stamps cost RM19.10 which is a 10% discount. Take a picture of yourself with your favourite car at the Autoshow or bring one you took earlier. Your stamps are printed for you on the spot so you can take home a souvenir of your day at the Autoshow immediately.
Tickets for the Autoshow are RM10 per entry but children below 12 will be given free access. Remember to enter your ticket for the lucky draw if you would like a chance to win a Kia Picanto.