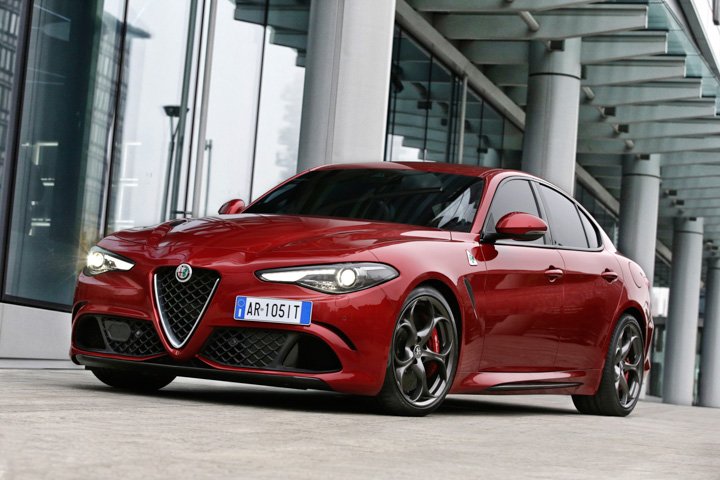 EuroAutomobile, the sole distributor of Alfa Romeo cars in Singapore has launched four variants of the Alfa Romeo Giulia:
Giulia

Giulia Super

Giulia Veloce

Giulia Quadrifoglio.
Features in the Giulia include torque vectoring and a new rear-wheel steer suspension system patented by Alfa with toe adjustments to improve handling and road holding on cornering; and adaptive suspension system. Safety features fitted as standard are forward collision warning, autonomous emergency brake and lane departure warning. Blind spot monitoring is available as an option.
Headlights are a choice of either halogen or next-generation xenon adaptive headlights. The 35W xenons are fitted with high light tone 4500ºK lamps which increase light flux and diffusion by 200% compared to halogen, while remaining energy-saving. There are also LED daytime running lights, cornering lights, side lights and direction indicators.
The Alfa Romeo Giulia and Giulia Super, feature a 2.0-litre four cylinder turbo petrol engine that produce 200bhp and maximum torque of 330Nm, delivered through an 8-speed automatic transmission. The rear-wheel drive accelerates from 0-100km/h in 6.6 seconds and has a top speed of 235km/h.
The 2.0-litre four-cylinder turbocharged petrol engine in the Alfa Romeo Giulia Veloce produces 280bhp and 400Nm of torque and is paired with an 8-speed automatic transmission. The top speed is 240km/h, with acceleration from 0 to 100km/h achieved in 5.7 seconds. 
The Alfa Romeo Giulia Quadrifoglio is the top of the range. Exclusive to the Quadrifoglio version, is the 2.9-litre V6 bi-turbo petrol mill, designed by Ferrari, that produces 510bhp and 600Nm of torque. with a weight-to-power ratio of 3kg/bhp. The power unit is entirely made of aluminium to minimise overall weight. Other weight reduction measure are the carbon fibre roof, bonnet, front splitter and rear holder, and body inserts, as well as aluminium for the doors and wings. Despite a top speed of 307 km/h and acceleration from 0 to 100 km/h in 3.9 seconds, the Quadrifoglio has the best in class emission levels, thanks to the electronically-controlled cylinder disabling system.
The Alfa Romeo Giulia is available in three pastel colours, White, Black and Alfa Red, and eight metallic colours: Vulcano Black, Silverstone Grey, Lipari Grey, Stromboli Grey, Vesuvio Grey, Imola Titanium, Montecarlo Blue, Misano Blue and Monza Red. In addition, there are two colours exclusive to the Quadrifoglio: Trofeo White and Competizione Red.
The Alfa Romeo Giulia and Giulia Super are priced at s$179,800 and s$197,800 respectively, both inclusive of COE.
The Alfa Romeo Giulia Veloce is available at S$241,800 with COE.
The Alfa Romeo Giulia Quadrifoglio is S$395,800 with COE.