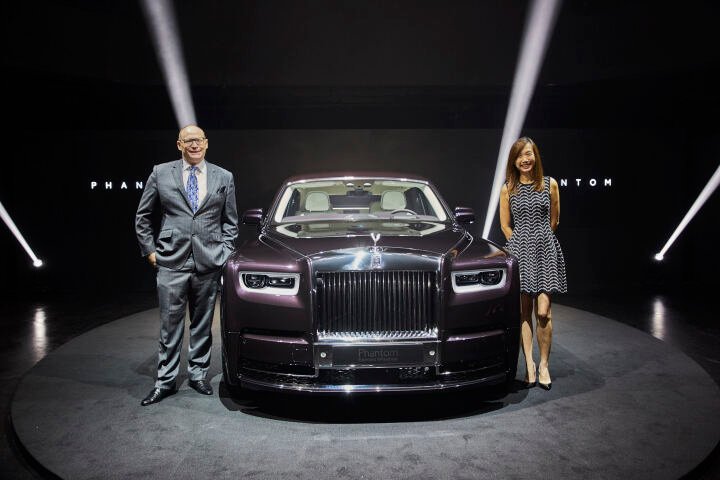 The all-new Rolls-Royce Phantom was revealed to the South-East Asian market at a launch held in Singapore. The eight-generation of Rolls-Royce's flagship limousine is the height of luxury and comes with several design and technological advancements.
This includes an aluminium spaceframe which is exclusive to Rolls-Royce and makes the new Phantom 30% lighter, stiffer and quieter than its predecessor. This innovation is unique to Rolls-Royce, and will underpin every future model starting with Cullinan due to arrive in 2019.
The centerpiece of the Phantom is 'The Gallery' – a reinterpretation the motor car's dashboard in a piece of hardened glass that spans the entire length of the dashboard and can be used to as a display case, whether it is traditional art media, or material fascination with wood, fabrics or metal. The Gallery can also be used to display personal memorabilia like a vintage baseball card collection. Rolls-Royce welcomes challenges to convention with this new Bespoke capability. Patrons would even be able to work with their favourite artist to create one-of-a-kind installations.
The all-new 6.75-litre, twin-turbocharged V12 engine delivers 563hp and 900Nm of torque from just 1,700rpm, spiriting from 0-100km/h in 5.4 seconds with the help of its eight-speed, satellite-aided transmission.
A next generation four-corner air suspension system, state-of-the-art chassis control systems, 130kg of sound insulation, double-laminated glass and dual-skin alloys across the bulkhead ensure the Phantom is exceptionally quiet and comfortable with sound levels so low that Rolls-Royce's acoustic test engineers had to check their instruments were calibrated correctly after reviewing the results of road and vibration tests. The Phantom's headlights are equipped with the latest laser light technology, providing a 600-metre range of light at night.
There are two variants of the all-new Phantom, the standard wheelbase and the extended wheelbase. Both Phantoms are expected to be ordered fully-bespoke. There are 44,000 exterior colours available and an army of Rolls-Royce's bespoke designers available to personalise the interior.
Prices for New Phantom are as follows:
·         Standard Wheelbase: from SGD 1,788,888.
·         Extended Wheelbase: from SGD 2,088,888.
All prices do not include COE.
The all-new Phantom in the image was presented in Belladonna Purple, with a two-tone contrast interior finished in Arctic White and Purple Silk.