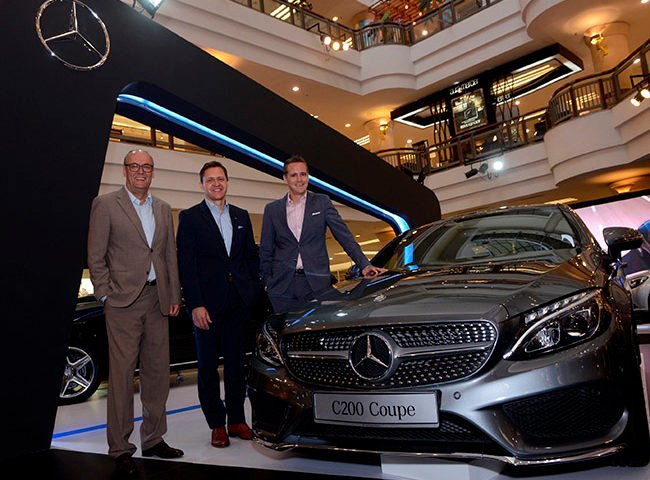 Mercedes-Benz Malaysia has released its first quarter results for 2017. It retains its position as the leading premium brand in Malaysia with 2.3% market share with double digit sales growth of 11% compared to the same period in 2016.
Of the 2945 units delivered, 1820 were locally-assembled C-, E- and S-Class saloons with the C-Class being the best-selling model at 1083 units. The compact A-, B-, CLA- GLA-Class and SUVs, and Dream Cars range making up the rest.
The Dream Cars saw an increase of 365% in sales with 93 units sold compared to Q1 2016.
Meanwhile, in after sales, the dealer network serviced a total of 30,629 vehicles nationwide in Q1 2017.
The Mercedes-Benz plant in Pekan, Pahang assembled 1,977 units in 1Q2017. The plant currently produces 11 variants, namely the Mercedes-Benz C180 Avantgarde, C200 Exclusive, C200 Avantgarde, C250 AMG, the new CKD E-Class comprising the E200 Avantgarde, E250 Exclusive, E250 Avantgarde, and E350e, the Mercedes-Benz  S400h AMG, together with the first locally produced Mercedes-Benz SUV, the GLC250 AMG; and the first locally produced Mercedes-Benz plug-in hybrid, the Mercedes-Benz C350e.
Globally, Daimler AG recently announced that Mercedes-Benz achieved sales of 560,625 units from January to March 2017 (+16%), its best quarter of all time. The automaker sold more vehicles in March than ever before in one month, delivering 228,296 cars to customers, an increase of 14.8%.
Daimler AG reported that unit sales in the Asia-Pacific region increased to a new record of 78,649 cars registered in March (+23.1%). In the first three months of the year, Mercedes-Benz delivered more vehicles to customers than ever before in a quarter (219,418 units, +27.4%). In South Korea, Australia and Malaysia, the Stuttgart-based company set best-ever figures for sales in March and in the first quarter.