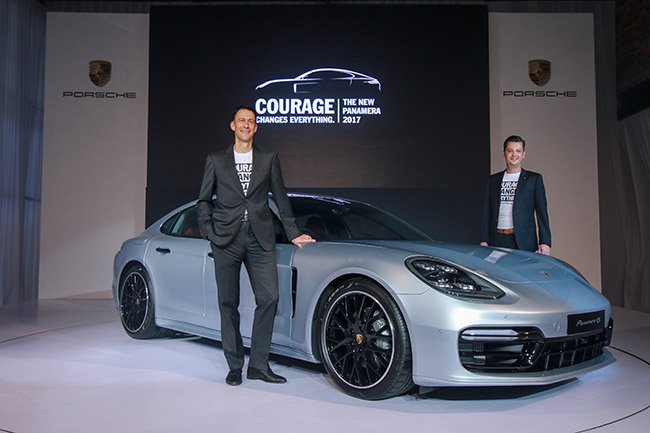 The all-new Porsche Panamera has been introduced in Malaysia by Sime Darby Auto Performance. Two variants of the grand tourer are offered, the Panamera and the Panamera 4S.
Despite the familiar silhouette and minimal changes to its dimensions, the second generation sports luxury saloon has been redesigned with new engines, chassis, new body panels and a high-tech advanced interior. More of the bodywork is made entirely of aluminium: bonnet, boot, roof and wings.
The vehicle is now 5049mm, 34mm longer overall, 6mm wider at 1937mm, and 5mm taller with a wheelbase of 2950mm, 30mm legroom more than its predecessor. Also maintained is the four-seater interior which can be specced with four identically equipped seats. The latest eight-speed PDK gearbox is standard along with LED headlights with four-point LED daytime running lights and LED tail lamps and 19-inch rims.
The interior has been digitalised with high-resolution displays although the tachometer at the centre of the instrument cluster remains analogue. In place of switches and buttons are touch-sensitive surfaces – even the louvres of the central air vent which are electrically adjusted using virtual sliders.  The Porsche Advance Cockpit is two seven-inch displays directly in the driver's line of sight. By the gear shifter, the console between the driver and front passenger is the 12.3-inch touchscreen Porsche Communication Management system.
Handling highlights of the Panamera are rear axle steering, active roll compensation and three-chamber air suspension, Porsche Active Suspension Management electronic damper control, the enhanced Porsche Dynamic Chassis Control Sport system with Porsche Torque Vectoring Plus and a new electromechanical steering system. Brake performance has also been improved.
The rear-wheel drive Panamera is powered by a new six-cylinder, 2.9-litre, turbocharged engine. It produces 20bhp more than the previous naturally-aspirated engine, now 330bhp from 5400 to 6400rpm and a maximum torque of 450Nm from 1340 to 4900rpm, with a 0-100km/h time of 5.7 seconds. Top speed is 264km/h.
The all-wheel driven Panamera 4S has a bi-turbo six-cylinder, 2.9-litre engine. With 440bhp at 5650rpm and 550Nm between 1750rpm and 5500rpm, it has a top speed of 289km/h, hitting 100km/h in 4.4 seconds. The new engine is 20bhp more powerful and produces 30Nm more torque than the first generation model.
There is a long equipment list to select from including the newly introduced night vision assistant, a thermal imaging camera to detect people and large animals and display a warning on the cockpit screen. Other options include panoramic tilt roof, massage seats, ambient lighting and a 3D sound system from Burmester.
The new Panamera starts from RM890,000.00 while the Panamera 4S is from RM1,100,00.00, both inclusive of tax. All cars sold via Sime Darby Auto Performance come with a four-year warranty and free maintenance package which includes complimentary service, parts and labour.