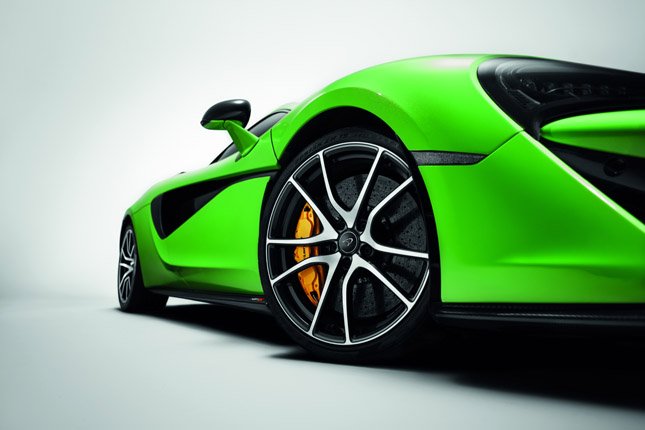 McLaren has developed a new range of options and accessories for owners of the 540C, 570S and 570GT to individualise their cars and also protect them from the elements. The upgrades are available for all McLaren Sports Series models and can be purchased and fitted by McLaren retailers.
Besides protection products like skid plates to protect the front diffuser from contact with the ground and indoor and outdoor covers to keep the exteriors of the cars in pristine condition, there are also branded floor and luggage bin mats.
Exterior modifications include a wide variety of expertly engineered, forged alloy wheel designs available in stealth, silver and diamond cut finishes, as well as several lightweight and coloured brake calipers. Three carbon fibre packs are also available as separate items, with the following components able to be fitted at the customer's convenience:
Carbon fibre side intakes
Carbon fibre mirror casings
Carbon fibre side skirts
Carbon fibre aero blades
Carbon fibre front splitter
Carbon fibre rear bumper
Carbon fibre rear wing
Carbon fibre rear diffuser
Carbon fibre rear deck and plenum cover
All have been engineered to provide weight savings over standard equivalents.
In the cabin, there is the option of other colours besides black for the seat belts and a carbon fibre steering wheel with extended gear paddles and a grip area covered in leather or alcantara. For additional personalization, there are:
Carbon fibre switch packs and IRIS surround
Carbon fibre upper speaker surround
Carbon fibre sill finisher with McLaren branding
Carbon fibre side tunnels
To make your McLaren Sports Series stand out even more, there's still the pinnacle of the Genuine Accessories range, a portfolio of McLaren Special Operations (MSO) options which have been designed, engineered and developed by the MSO team specifically for the bespoke projects they undertake. Key items in the MSO collection include front splitter, rear wing and rear bumper – any of which can elevate the Sports Series to a new level of exclusivity.
All McLaren Sports Series options and accessories can be fitted to existing customer cars or specified on McLaren Qualified vehicles by McLaren retailers. For a full list of McLaren retail locations worldwide, please visit: //www.retailers.mclaren.com. The options are also available on new vehicles and specified at point of order.