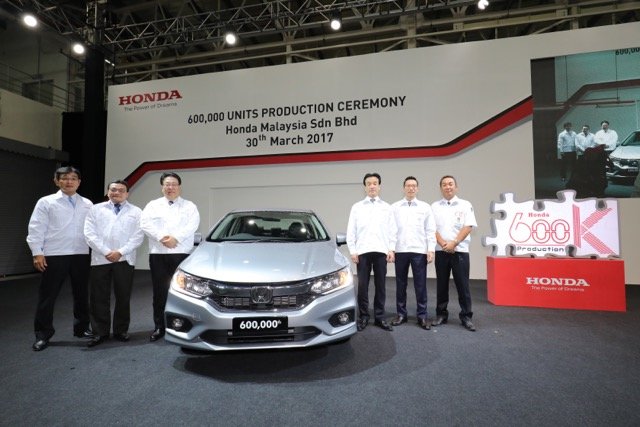 Honda Malaysia has produced its 600,000th car at its manufacturing plant in Malacca. The car was the new City mid-life refresh, one of the seven models built in Malaysia by Honda and Honda's best-selling model.
The Pegoh plant has been in operation for 13 years with two production lines. The Line 1 opened in 2003 and only four models were produced then: the City, the Jazz, the Civic and the Accord. Following the opening of Line 2 in 2014, three more models have been added, the CR-V, HR-V and BR-V, allowing the rapid increase in manufacture leading to this production milestone.
With only Line 1, it took 11 years to produce the initial 300,000 units. With the addition of Line 2, the subsequent 300,000 cars took just three years. The factory was designed to have flexible production capacity allowing multiple models to be produced at the same time to cope with changing market demand. This has enabled Honda Malaysia to shorten the waiting period when there is a surge in the bookings for certain models. In the instance of the BR-V, despite bookings of close to 10,000 units, 12 times its monthly sales target, the waiting period is one or two months, the average for all Honda models.
There was a double celebration at Honda Malaysia as the company also marked the achievement of 100,000 sales units for the current financial year, 1st April 2016 to 31st March 2017.
Honda is currently the market leader in all its sales segments in Malaysia.