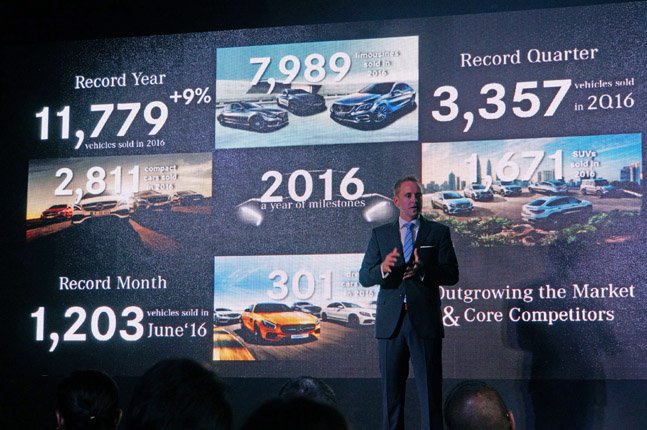 Mercedes-Benz Malaysia (MBM) ended 2016 on a high note, the final chapter in a year of extraordinary results in which the German automaker surpassed the sales figures of previous years. It now holds the top spot in both the Malaysia and global premium car market.
A total of 11,779 vehicles were delivered to customers with a 9% growth in unit sales compared to 2015, a new milestone which placed Mercedes-Benz number one in the premium segment with 2.4% market share. Of the 11,779 vehicles, 7,882 units were produced in Malaysia at the Pekan plant in Pahang, a production growth of 2.2%.
Here is a breakdown of the figures:
• Locally-assembled saloons, the C-, E- and S-Class, accounted for 7,750 units
• Compact cars, the A-, B-, GLA- and CLA-Class came to 2,316 units
• SUVs delivered came to 1,671 units. The GLC was the most popular with 1,421 units followed by the GLE with
250 units
• MBM's best-selling model was the C-Class (4,763 units), followed by the E-Class (2,034 units)
• 954 units of the S-Class were sold
• 301 units sold were from the Mercedes-Benz Dream Cars range
• The best month for sales was June with 1,203 units sold
• The second quarter was the best performing quarter with 3,359 units sold
MBM launched 17 new models in 2016 including the all-new E-Class and the mid-life refresh of the A-Class and Dream Car models like the C-Cabriolet and S-Coupé.
Meanwhile, MBM also beefed up its aftersales to manage the increase in demand. The Mercedes-Benz Training Academy produces internationally certified technicians and other support staff needed by the MBM Dealer Network. In 2016, a total of 25 apprentices graduated from before going on to join the Mercedes-Benz authorised dealerships throughout the country. Nationwide, MBM service centres serviced a total of 108,226 vehicles.
In 2016. MBM also achieved the highest customer satisfaction index in history for sales, aftersales and financial services.
MBM produces eight models at its Pekan plant: the C180 Avantgarde, C200 Exclusive, C200 Avantgarde, C250 AMG, the new E-Class, S400h, GLC250 AMG and the first locally produced plug-in hybrid, the C350e.
Globally, Mercedes-Benz was also on an all-time high, setting a new record, 11.3% growth, with over 2 million vehicles delivered worldwide, making it the number one premium segment brand worldwide.
In the Asia Pacific region, demand for Mercedes-Benz vehicles grew by 19.3% compared to 2015 with Malaysia listed as a contributor to this best-in-history growth along with Japan (+3.5%), South Korea (+25%), Australia (14.8%) and Taiwan (17.4%). A total of 734,169 vehicles were delivered in the region in 2016.
2016 was also the year in which Mercedes-Benz, the oldest car company in the world celebrated its 130th anniversary.