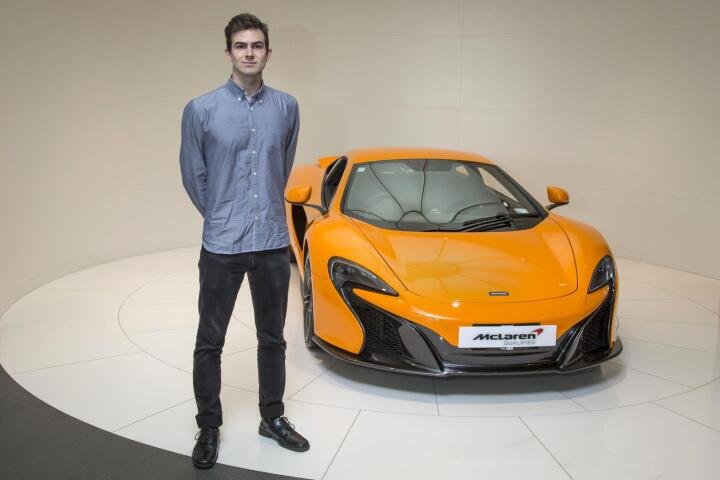 McLaren Automotive has awarded its first international internship. Fittingly, the recipient is a student from the University of Auckland in New Zealand by the name of Andrew McLaren, although he is not related to Bruce McLaren, the McLaren founder.
Andrew McLaren is a third-year student in the Faculty of Engineering studying Mechatronics Engineering. He will spend nine weeks at the McLaren Technology Centre in Woking, working alongside the company's Research and Development engineers.
Nearly 60 years ago, the McLaren founder, Bruce McLaren, travelled to England on a similar 'Driver to Europe' scholarship to pursue his motorsport aspirations and founded his own racing company in 1963. Born in Auckland, New Zealand, Bruce McLaren studied at the Auckland University of Technology and was an accomplished engineer and innovator as well as a successful racing driver.
Andrew McLaren was born in Dargaville, New Zealand and attended Dargaville High School before starting his Bachelor of Engineering in Mechatronics. Mechatronics is a mix of mechanical, electrical and computer engineering.
Andrew McLaren's particular focus is in the Research and Development of future products, and especially the company's efforts to reduce the emissions of the next generation of sports and super cars. Commenting on the internship, Andrew said: "I can't wait, it's a field that is very hard to get into because there is very little opportunity in New Zealand, so I thought I would never get a chance like this. I would love to be at the forefront of that kind of innovative thinking. I'd really like to do something that would benefit society," Andrew continued.
Commenting on the internship, Brand Ambassador for McLaren Automotive and daughter of Bruce, Amanda McLaren said: "I'm delighted to welcome Andrew to McLaren Automotive to continue his education. Even though my father passed away many years ago, the connection between McLaren and New Zealand still remains very strong and the parallels in both of their early careers is especially poignant."