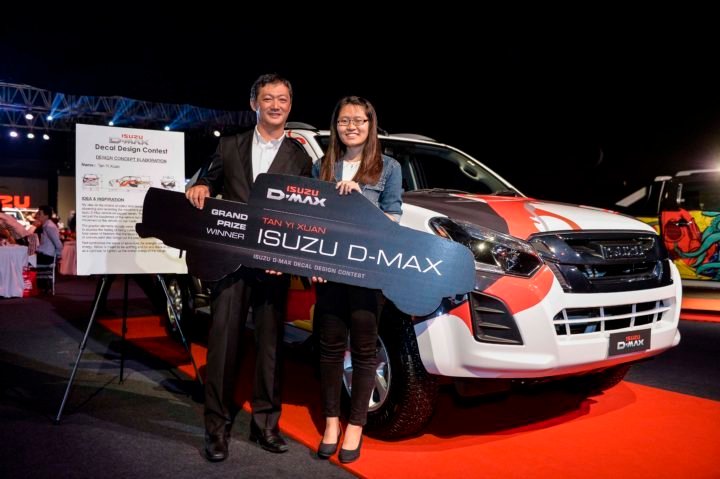 Contest to design customised decal stickers to personalise Isuzu D-Max trucks
Isuzu Malaysia, The One Academy and Sime Kansai Paints recently held the Isuzu D-Max Decal Design competition.  Students of The One Academy had to devise creative artwork for Isuzu's D-Max truck. The award was broken up into three categories, Most Rebellious Design, Most Futuristic Design and Most Creative Design.
The grand prize of a D-Max worth RM115,000, specially wrapped with the winning design, went to the winner of the Most Creative Design segment, Tan Yi Xuan. Tan's design featured vibrant intertwined flowing splashes of black, yellow and red. The graphic elements were meant to express the freedom, power and fun of the D-Max in motion on rugged terrain.
The Most Rebellious Design award of RM10,000 in cash was won by Lee Zun Tat. His tattoo culture-inspired "Good to be Bad" design had elements of a skull and octopus against a background of strong, bold colours.
Mok Wen Chee won for his "Bird of Freedom" concept which took home the Most Futuristic Design prize, also RM10,000 in cash. The blue, turquoise and purple design, embellished with light streaks and stylised features was like a bird ready to fly.
Mr Kenji Matsuoka, Chief Executive Officer of Isuzu Malaysia presented the three One Academy students with their prizes. This took place at the launch of the newly refreshed Isuzu D-Max truck and MU-X SUV.