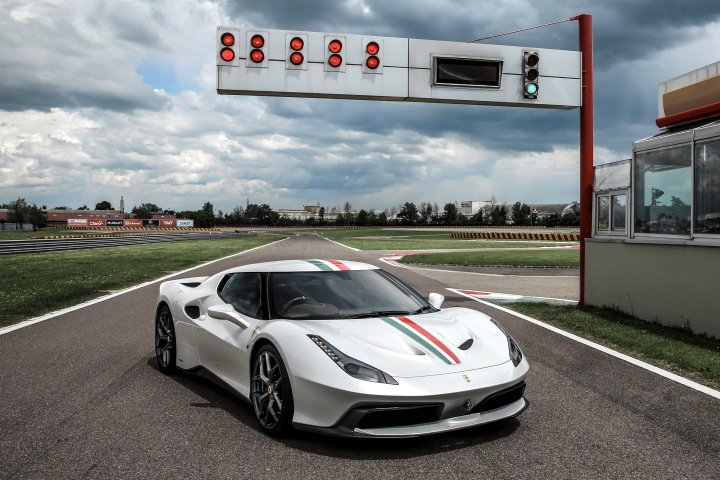 Ferrari has unveiled its latest One-Off Programme creation, the 458 MM Speciale, built on the platform and powertrain of a 458 Speciale and restyled to the requirements of the client, an unnamed British owner. The biggest difference from the standard 458 is in the greenhouse section. The black-painted A-pillar has created a sleek, seamless wraparound effect. This has also the optical illusion of lowering the roofline and making the broad the C-pillar look more aerodynamic. It's a look inspired by the 1984 Ferrari GTO.
Under the Bianco Italia body which has stripes in the colours of the Italian flag on the bonnet, is an aluminium body with carbon fibre front and rear bumpers. The 458 MM Speciale has a revised aerodynamic package in the form of a new side air scoop and additional direct cooling for the engine. Downforce has also been redistributed with a new spoiler that was designed to enhance the athletic looks further.
Other exclusive elements to the 458 MM Speciale are the wheels, front and rear light clusters and interior which features Cioccolato leather upholstery with white contrast stitching and satin white rings around the tunnel controls. The 458 is the last naturally-aspirated V8 to be produced by Ferrari.
The chance to have a unique vehicle from Ferrari's One-Off Programme is by invitation only and takes upwards of £2million pounds, three years and several visits to Maranello to work with the in-house designers to produce a bespoke vehicle.